CONGRATULATIONS BRAD LOWE !
40 YEARS OF SERVICE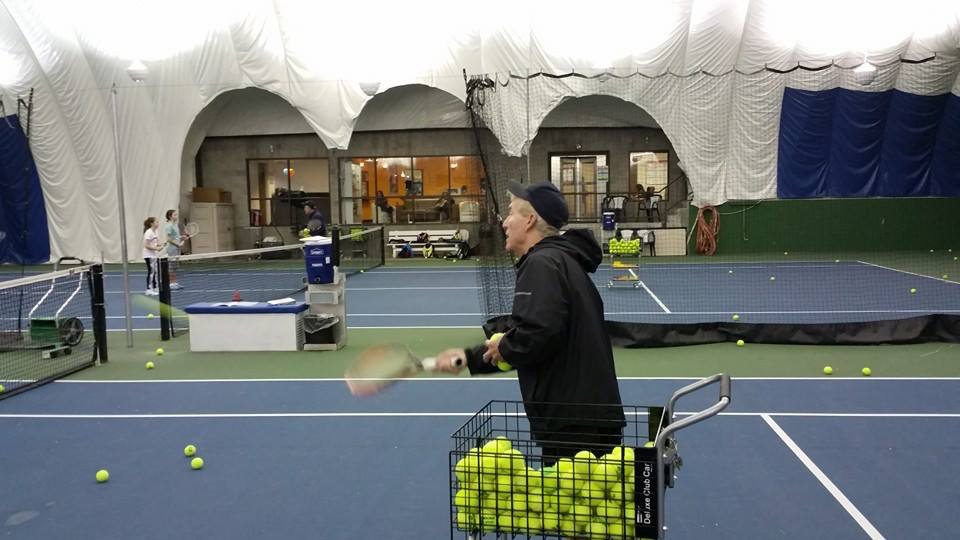 What an honor and privilege to have Brad Lowe as a dedicated and loyal employee at the Ogden Athletic Club for 40 years. Brad has been an inspiration to many people and has help thousands of people on their tennis skills and in their personal lives (and probably remembers all their phone numbers still to this day).
Congratulations to you, Brad! We are the lucky ones to have you as a friend, co-worker, employee and Coach.


NEW FAMILY AREA

We are getting close to the opening the new family area. This area will contain ping pong, pool table, shuffle board, and more. It will be for members 6th grade and above, and families that are providing direct supervision. All games will be on a first come first serve basis and time limits will be established when people are waiting.
We will be having policies in place in order to keep the equipment nice for all our members. There will be no rough play, in-appropriate language, or vandalism tolerated in this area. Camera security will be going at all times.
The new bathrooms are all really open and ready. Please again take responsibility to clean up after yourself so it is nice for the next patron.


BILLING

Reminder that you can access your account online to see your statements and your usage. If you are not sure of user name and password please contact the business office. We do need your current email in order to give you access. You gain access by logging in on the ogdenathletic.com website. Please take a moment to look over your account and make sure we have your most up-to-date information. You can also you this same login to access the Ogden Athletic Club app. , where all your information is at your fingertip. The group fitness schedule is on the app as well as the cycling registration. Need help, please ask us.
FRONT DESK

We are trying to update the new system with your emails, picture, and liability releases. Your picture is required for our system and is a vital part of our security. This is a big project for us and we appreciate all your help. New club cards are also here, and we would like all our members to have one to help with their speed of entry. Children over 8 may have their own card. Children under 8 must be accompanied into the Club by a parent.
GUESTS
If you are bringing guests into the club remember you will need to pay the appropriate guest fees when arriving. Children under 18 must have a liability waver signed be a parent. This can be done on-line before coming to the Club. Please go to our website ogdenathletic.com and complete the liability waiver through the waiver app. It only takes about 4 minutes and it is good for one year. Please tell your guests before they arrive and then we can check and process them in quickly. Thank you.
KIDS' CLUB REMINDER
If your children are under 5 they must be in the childcare facility or directly supervised by a parent ( arm's length away). They are not permitted in the Crossfit, Parisi, or Fitness Areas. Please keep these little ones safe as they are so precious!
TENNIS

Mike White has developed our tennis program into a whole new futuristic style of development. He's new style is really developing the juniors into strong tennis players. If you don't know the a-b-c's of tennis its time to ask Mike to teach you. Our junior program has new life and the kids are loving it. Summer Tennis Camps and programs will be available soon.
Pee Wee Tennis starts for kids 5 years and up. Start you kids early to help them learn great eye hand coordination!


CROSSFIT

The CrossFit Striking Trainer Course is designed to give participants the essential skills that will allow them to instruct athletes in the basic striking concepts of mixed martial arts, boxing, and self-protection. Participants will be taught how to incorporate striking drills into CrossFit workouts so that overall fitness, core strength, rotational speed and power can be increased. In addition, the CrossFit Striking Trainer Course will teach participants to:
~ The ability to learn and teach proper striking mechanics from the ground up.
~ The skill set to properly incorporate striking drills into CrossFit workouts.
~ The techniques for increasing core strength, rotational speed and power.
~ The ability to Implement CrossFit Striking WODs into your weekly programming.
Developed by Martial Arts Masters Hall-of-Fame inductee and SWAT team member, George Ryan, CrossFit Striking is designed to take both the skills and the benefits from a fighter's striking training program and integrate them into CrossFit workouts. Contact us today for registration information... lindsayh@crossfittheclub.com
AQUATICS

We will be hiring lifeguards and WSI Instructors on the first week of April. If you have your certification and you are 16 years old, you may apply . Fill out an application and sign-up for a group interview at the Front Desk.
Group Swimming Lessons will start in May. Sign-ups will be out in April.
SPEED AND AGILITY TRAINING
Want to say thanks to Zac Vigil LB for Miami Dolphins, Utah State Great for taking time out of his workout to speak to the Bear River youth football team. You're a great role model to these young boys on and off the field. Just an example of pro and beginning athletes we have training at our facility. #