CALENDAR OF EVENTS
January 19 - Ladies Striking Night - Bring your friends
January 20 - UNDER THE SEA PARTY 6-7:30 PM
January 22 - Power outage planned by Rocky Mountain Power 8am- 4pm
February 1 - New Group Fitness Changes Adding Restorative Yoga
February 1 - Get your Massage Gift Certificates for your Valentine.
February 14 - Happy Valentine's Day
February 17 - Family Pool Party 6-7:30 PM
March - Sports Combine - Specifically geared towards Football
Fitness - Equipment update
We are looking to upgrade our fitness equipment in the future and we would appreciate your input. Please click on this link below to go to our survey and tell us what you would like to see in our club. We will take all suggestions into consideration along with looking at the longevity of the equipment and what type of continued maintenance it will require. Thank you for your help.
https://www.surveymonkey.com/r/M5MRPJP
REWARDS PROGRAMS

The Ogden Athletic Club launched a new rewards program. You will now be earning points for coming to the club, liking us on facebook or twitter, referring a friend to join and more. This program is currently for members (16yrs. and older) that have current emails in our system, if you don't have an email in our system it cannot connect with you for tracking. Please give your new updated emails to the front desk staff. As soon as you earn points, you will be invited to join the rewards site called " Perkville Rewards" . Just login to see the rewards that you can redeem.
MASSAGE THERAPY
Need a Valentine Gift that he/she really wants? Massages Gift Certificates are available at the Front Desk. We have a great team of massage therapists that are ready to work with you. With different types of massages including hot rocks, relaxing or deep tissue we can restore your energy and start to heal your muscles from within. Make an appointment at the Front Desk or buy a gift certificate for a loved one.
BIRTHDAY PARTIES
Why the Ogden Athletic Club?
You have the comfort of knowing that your child's special day will be stress free! We will help you set up for your party, and we take care of the clean up after as well! You get to sit back and watch your child and their friends have a great time! Our party hosts are professional and love children! Call Jaina for more information on what we can do for you. 801-479-6500
JUICE BAR

The Ogden Athletic Club will now be running the Juice Bar. We look forward to meeting the needs of our members and their families. We would also like to welcome Mailee Shock as our Juice Bar Manager. She is a wonderful addition to our staff. She has some new ideas that she will be trying and we encourage you all to look for her juice bar specials, and amazing smoothies.
Congratulations Jacque Dunyon
So proud of this young lady. At 14 years old Jacque Dunyon, won the girls 18's winter masters tournament here in Salt Lake City. That is an amazing accomplishment. Jacque and her family spend hours playing and practicing tennis every day! Her hard work is paying off.
AQUA BOOT CAMP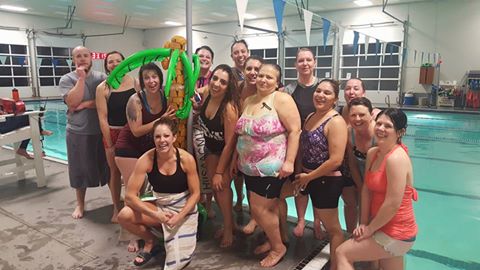 COME TRY SOMETHING NEW !

TUESDAY AND THURSDAY EVENINGS
These aqua boot campers are dedicated and fun!.
They work SO hard. What an amazing group!!!
If you want to try a class contact Becky 801-479-6500.
SPEED AND AGILITY TRAINING
The goal of this program is to offer cutting-edge fitness and sports performance training methods to your athletes. We are confident the Speed and Agility program by Parisi will improve physical fitness, performance, and most importantly, self-confidence. We would appreciate the opportunity to present this program to coaches, parents and administrators in our area through a Complimentary, 60 minute Speed, Fitness & Conditioning Clinic. We would need 5-10 student-athlete participants ages 7 through 18 for this event. We can offer this clinic at our facility or at your facility or local school. Following the Clinic, we can answer questions about the program and discuss how this type of curriculum can be implemented into your fitness organization or school.
We are excited about the opportunity to be giving back to the local community sports programs that have supported the Ogden Athletic Club over the years. Please call Connie to set-up your Complimentary Clinic. 801-479-6500