WHAT'S HAPPENING AT THE CLUB?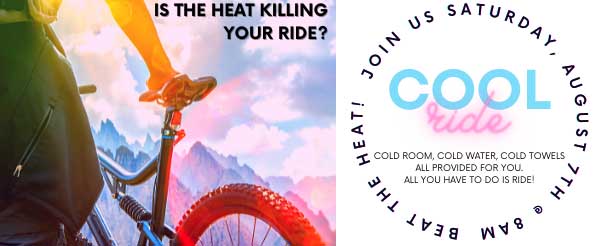 This Cool Ride Cycling Event will have you reaching peaks and speeding through flats, all without the heat or crowds of summer. Come join us for this cool event! Book a bike at stagescloud.com to reserve your spot!
NEW EQUIPMENT COMING SOON

Are you ready to take your powerlifting skills to the next level? We thought so. Introducing your new Powerlifting Platform, making its debut in the weight room this month! Before stepping up to the challenge, please make yourself aware of the guidelines associated with this effective, yet advanced, powerlifting option. They will be posted in the club. Our goal is to provide you with the best equipment while keeping everyone safe and moving effectively. If you have questions on how to use any equipment in the gym, please reach out to one of our knowledgeable personal trainers.
| | |
| --- | --- |
| | A new Demo Treadmill by Matrix is coming to the cardio center soon. Featuring the industry's most advanced frame and deck combination for the ultimate running experience. Give it a go and tell us what you think, we'd love your feedback! |
FITNESS JUMPSTART PROGRAM
It's never too late to learn more about how to stay healthy! Included in your membership is a Complimentary Training session with one of our amazing trainers! Don't let this opportunity go by - if you need help in knowing how to workout properly, or the newest in nutritional facts, please sign-up for an appointment today! Contact Haley Clausse for more information at [email protected].
MEMBER SPOTLIGHT
WORKING THROUGH INJURY AND TRAINING FOR SUCCESS
Almost 2 years ago I experienced a significant calf strain which took me out of my tennis routine for about 3 months. I did not want to just sit at home, but I also did not want to cause more damage to my calf, so I contacted the trainers at OAC. One of the trainers worked with me; made sure I used correct form and worked around my injury. When I returned to tennis, I was amazed at how much my upper body and core strength had increased. The results from working with a trainer have been so beneficial that I have continued to work with a trainer.
My trainer has provided me with a variety of exercises and has given me the confidence to do them on my own. She always checks with me at the beginning of each session to see how I felt after the last session and has made last minutes adjustments to my workout if I let her know about issues. Another bonus to working with a trainer is accountability – I know that I have a twice weekly commitment. It helps keeps me on track.
-Kaye Moulding, Member Since 2005
THE TENNIS DOME GRAND OPENING: SEPTEMBER 6-11

Join us September 6-11, as we welcome members and guests to experience our superior new tennis facility. The Dome at the Ogden Athletic Club is now open and running at full capacity. With new functionality and an updated viewing area, The Dome is Northern Utah's finest tennis facility. The first week in September will be open to guests and will be filled with events and activities for the whole family. Stay tuned for further details in the coming weeks.
FALL TENNIS LESSONS

Fall Junior Tennis registration is coming! Now's the perfect time to get your young ones involved in an individual sport that they can play for a lifetime! Contact Brady for more information at [email protected]
Fall Adult Tennis Clinics, Leagues, and Lessons are also available. Contact Tony for more information at [email protected].
ELEVATED NUTRITION

Elevated Nutrition is a customized nutrition coaching program designed to help you reach your goals with your preferences and lifestyle in mind. Whether you need a lot of support or a little, each level of accountability will give you exactly the amount of help you need.
At Elevated Nutrition we offer help with:
Weight loss
Weight gain
Building muscle
Macro coaching
Improving athletic performance
Creating lasting habits
Creating a better relationship with food
Improving your quality of life
Krystykka is a certified nutrition coach and is ready to help you make lasting change! The end of summer is a great time to start honing in on your fitness and nutrition goals. Contact Krysykka today at [email protected] or 715-379-7537 to book your free consultation to see if Elevated Nutrition is right for you!
SUMMER AND FALL YOUTH PROGRAMS
Our final summer sessions of youth programs are happening now. To get your kids signed up now, or for the fall, contact Krystykka at [email protected] or 715-379-7537.
YOUTH 4300'SC
We have one more summer session remaining of our youth 4300' strength & conditioning program. It is the perfect mixture of functional movements, speed, agility, strength training, and fun to elevate your kids to their fullest potential. Our mini August session is happening now, but we will start our regular 6 week sessions back up on September 14!
YOUTH STRENGTH & CONDITIONING
TUES. & THURS. - $49
8-11 YRS - 11AM - 12NOON
12+ YRS - 12NOON - 1PM
*SESSION 2 - AUG. 3 - AUG. 19
JUNIOR FITNESS CLASS
Available to junior high age youth (6th - 8th grade). The class is one hour in length, including very informative instructions on warm-ups, stretching, weight training, abdominal exercises, cardiovascular training, and nutrition. Upon completion of this class the participant will receive a name tag (Junior Pass). The Junior Pass entitles the holder to participate in the Fitness Center with no adult supervision. Must pre-register by Thursdays at 1pm to attend.
JUNIOR FITNESS CLASS
ONLY ONE SESSION NEEDED
THURSDAYS 4:30 - 5:30PM
$10 - ONE TIME FEE
6TH - 8TH GRADERS
YOUTH SUMMER BOOTCAMP IN REVIEW

Figure 1: Work Hard. Youth Bootcamp Circuit | Figure 2: Play Hard. Pool Party!
A big shout out to all the kids who participated in our Youth Bootcamp Program this summer. We heard consistently, "this is hard", followed by "did you see what I could do?" Kids can do hard things and these kids rocked it! You could see their confidence build as they saw their own success! We look forward to another great program next year.
JUNIOR LOUNGE AND KIDS CLUB
FALL JUNIOR LOUNGE AND KIDS CLUB HOURS
Starting August 25, Junior Lounge and Kids Club hours will be as follows:
JUNIOR LOUNGE HOURS
Mon – Fri: 3:30 - 8:30 PM
Sat: 8:30 AM – 2:30 PM
KIDS CLUB HOURS
Mon/Wed: 9 AM – NOON & 4:30-7:30 PM
Tues/Thurs: 8:30 AM – NOON (Pending Staff Availability, may return to 9am) & 4:30-7:30 PM
Fri/Sat: 9 AM - NOON
NEW POOL TABLE RULES

We have just re-felted our pool table. Here are the new policies to help keep it nice so that everyone has an enjoyable time. Please teach your children about these rules:
-Pool sticks, chalk, racks, balls, etc. are to be kept in the closet while not in use
-The pool table should be covered while not in use
-No using hands to move pool balls; only sticks
-No dragging, scraping, setting, or touching of the pool sticks on the playing surface
-No food, drinks, phones, keys, etc. allowed on the table at any time.
-No sitting or standing on the pool table at any time.
-Anyone who damages equipment will be held responsible for replacement or repair fees.
FLU SEASON APPROACHING
There is nothing we love more than seeing a gym full of healthy people. There is nothing we cringe at more than spreading sickness at the gym. Please be considerate, if you (or your child, if they're coming with you) do not feel well or have flu symptoms, please stay home. Please continue to sanitize your equipment before and after each use to make the OAC a healthy and safe experience for everyone!
CALENDAR ITEMS
AUGUST
2 -
New Outdoor Pool Schedule
Monday – Saturday Noon-6pm
Sunday – Noon – 3:45pm
7 -
Cool Ride Cycling Event at 8am – Book a bike today at stagescloud.com.
15-
Fall Tennis Sign-Up Begins
23-
Fall Group Fitness Schedule Begins: See posted schedule for details
- Hydro-Aerobics classes change back to 9-10am, with an additional class on Mon/Wed at 10-11am
25-
School begins for Weber School District
- Outdoor pool will open at 3:30pm
- Junior Lounge returns to fall hours
SEPTEMBER
6 –
Labor Day – Club closes at 6pm
7 –
Outdoor Pool closed for the season
6-11TH
Grand Opening of THE DOME – Tennis Facility. Free Guests all week!
Activities and Events to be Announced
11 –
Group Fitness Event – A Day to Remember - Les Mills Launch – Free for Guests
MEMBERSHIP CHANGES
We accept and process all changes to your membership through email. Please send your requests to [email protected]. Simply write an email to us with the changes you would like to make on your account.