We want to wish you a very Merry Christmas, from our OAC family to yours. We are grateful for the wonderful year we've had together becoming healthy, happy, and strong, and building great relationships along the way. We hope that your holidays are magical and that you'll join us for some fun throughout this Christmas season and into the New Year! Check out some of the festive activities planned around the club this month: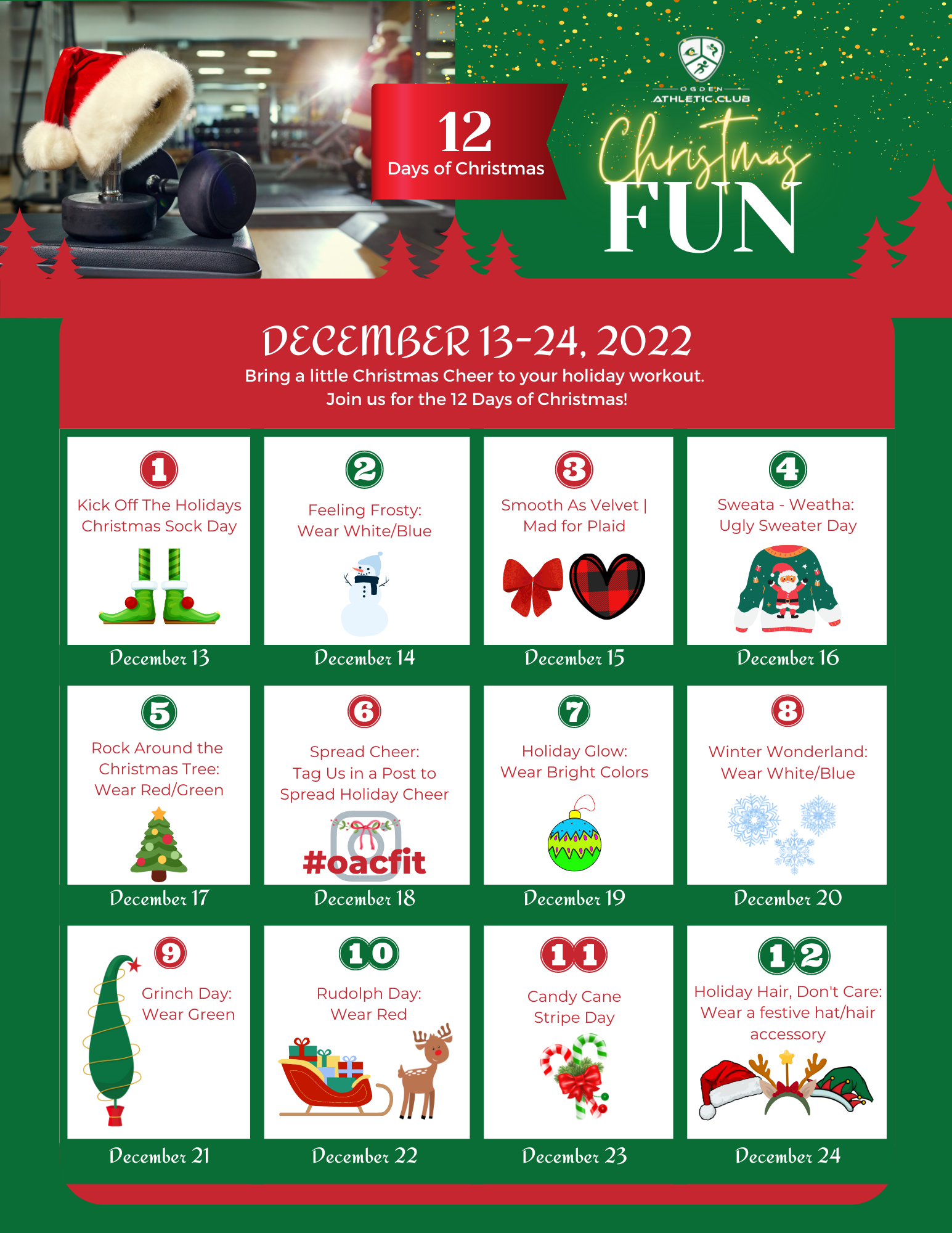 Starting December 1st, all personal training clients will be entered into a raffle for great holiday prizes! Each client will receive one raffle ticket for every personal training session they have with their trainer.
Prizes Include – Fabulous Gift Cards | A Minky Blanket | OAC Swag

ELEVATED NUTRITION
The holidays are here, and New Year's is fast approaching. Contrary to popular belief, you don't have to put your eating habits, health, and goals on hold until January 1st. Elevated Nutrition is here to help you create lasting habits and change to navigate through the more tempting and difficult times of the year. Spots are already filling up fast for coaching in December and January. If you are interested, contact Krystykka at [email protected] to set up your free nutrition consultation to see how Elevated Nutrition can help you!
ELEVATED NUTRITION TESTIMONIAL
What did you like best about nutrition coaching?
I learned about how to improve my eating habits and how to get more protein and fiber into my daily diet.
How do you feel like you changed? Mentally, physically, and overall health?
I am less sore after workouts, and I feel more confident about my ability to eat good food. I have lost a few pounds and inches.
What do you think was the most helpful about working with Elevated Nutrition/Krystykka?
Knowing that someone was looking at what I ate each meal gave me the motivation to choose more wisely. Krystykka was always kind and encouraging and focused on what I was doing well. Her encouragement helped me to be better.
Would you recommend Elevated Nutrition to a friend? Why or why not?
Yes! Nutrition is an important part of good health. Working out is not enough by itself. Krystykka gave me the tools to succeed. She checked in with me regularly and gave me good feedback.

The fastest-growing sport in America is coming to the OAC. Young, old, athlete or not, pickleball is a fun sport for all to play and we want to bring it to you. Look for more details in the New Year and get ready to have some fun with friends and family in this all-inclusive sport!

Refer a friend in the month of December and be entered to win Pickleball Paddles to use on our new courts!

We are conducting a survey to help inform us about any changes or additions we should make to the Group Fitness schedule starting in January. If you have ever had the thought, "I wish that…" now is the time to let us know! The survey should take 5 minutes or less. The survey will close on December 12, so don't wait to respond. Please click the following link: https://forms.gle/JKJxy8miYY8Q9SmB6

Launch Week | All our Group Fitness programs get a quarterly upgrade, with a quarterly party! We want to kick the year off right with a week of great exercise classes, energy, vendors, prizes, and more. Mark your calendars and get ready to jump-start 2023! January 2 – 7, 2023.
Ride Across the U.S. | In 2023, we invite you to start a trek across America with us. When you attend a cycling class and book your bike through our Stages App, you will start to add up miles. We will track your progress throughout the year, posting your progress at 50 miles, 100 miles, 500 miles, and so forth. The total mileage from San Diego, CA to Brunswick, GA is 2,671 miles. That's the goal, join us for an amazing journey. We know we will all cross the finish line changed!
PRO-TIP | HOW TO BOOK A BIKE

If you haven't made a Stages Studio account, follow the instructions listed here.
Log in to your Stages account. Click on the icon with a [+] sign in the box, labeled "In Studio".
Click on the Class you would like to attend. Select a dot to pick your bike, click on Book Bike and you're ready to ride!
8-Week Grit Challenge | Our first 8-week Grit challenge was a great success. We had 14 amazing people sign up and 6 participants finished the challenge with more than 90% attendance at 5:30 AM! We are ready to give it another go. We encourage you to sign-up for this FREE challenge. The class is M|W|F at 5:30 AM, January 2 – February 24. To sign up email Mickenzie Brooks – [email protected].


Our very own, Erika Martin, was recently interviewed by the Standard-Examiner. She will turn 100 years old on December 27th, but she doesn't let that stop her from attending the club every week and taking the stairs to the women's center to use the treadmill and weights. Mrs. Martin has been a member of the Ogden Athletic Club for over 27 years and attends the club two to three times a week. She told The Standard, "I strongly believe in being active – that means mentally and bodily. I don't really like sitting in a chair and watching television every day." She added, "I would encourage everyone who is able to exercise."
An old adage states, "if you don't stop, you won't stop." Mrs. Martin is proof of that. Thank you for being a great example and inspiration to all of us. Happy 100th Birthday Erika Martin!
-For the full article please see the following link: https://www.standard.net/news/local/2022/nov/22/ogden-woman-99-still-makes-it-to-the-gym-i-strongly-believe-in-being-active/

Book a massage at the front desk in the month of December and receive a special rate, $45 for a 1-Hour massage.
Slow Down in the Parking Lot | Winter weather and colder temperatures can provide a recipe for disaster. Please slow-down in the parking lot and beware of pedestrians and where you are parking.
Protect Your Personal Belongings | We have had an influx of theft at the club over the last month, particularly in the parking lot. Make sure you are protecting your belongings. We suggest if you leave them in the car they are not in plain sight. You may consider leaving valuables at home or keeping them with you.
No Gum in the pool, hot tub, or sauna areas | Please do not take gum into the pool area. We have had multiple incidents of people not disposing of their gum properly and this has caused issues in our hot tub pumps. The cost of replacing these parts prevents us from making other improvements at the club.

The Ogden Athletic Club has teamed up with the Ogden Weber Community Action Partnership (OWCAP) and Ogden School District in providing items for Community Christmas. These items will benefit local children in Weber, Davis, and Box Elder County. The tree has been in the lobby throughout November and now it's time to "wrap it up". All donations need to be brought (unwrapped) to the club by December 5th, our final collection day. Thanks for helping us give back this holiday season!

If you haven't picked up your tennis ball, it's not too late. Join us for the annual Tennis Ornament Contest. The first step, pick up a tennis ball from the Front Desk. The second step, create your tennis ball Christmas Ornament. Finally, bring it back to the club by December 6th, without your name on it. We will put a numbered tag on each ornament. A prize will be given to the Top 5 ornaments on December 15th. One entry per person, but all members can enter. We can't wait to see your creativity!
WINTER JUNIOR LOUNGE AND KIDS CLUB HOURS
Junior Lounge and Kids Club hours are as follows:
KIDS CLUB HOURS
Mon/Wed: 9:00 AM – NOON & 4:30-7:30 PM
Tues/Thurs: 8:30 AM – NOON & 4:30-7:30 PM
Friday: 9:00 AM – NOON
Saturday: 8:30 AM – NOON
JUNIOR LOUNGE HOURS
Mon – Fri: 3:30 - 8:30 PM
Sat: 8:30 AM – 2:00 PM
CALENDAR
DECEMBER
6TH – LAST DAY TO TURN IN GIVING TREE DONATIONS & TENNIS ORNAMENTS
9TH – POLAR EXPRESS MOVIE NIGHT 5:30-7:00 PM
1ST – 12TH GROUP FITNESS SURVEY OPEN | https://forms.gle/JKJxy8miYY8Q9SmB6
13TH – 24TH TWELVE DAYS OF CHRISTMAS (SEE ABOVE FLYER FOR DETAILS)
24TH – CHRISTMAS EVE – CLUB CLOSES AT 3PM
25TH – CHRISTMAS DAY – CLUB CLOSED
31ST – NEW YEAR'S EVE – CLUB CLOSES AT 3PM
JANUARY
JAN 1ST – NEW YEAR'S DAY – CLUB CLOSED
JAN 2ND – 7TH – GROUP FITNESS LAUNCH PARTY WEEK
JAN 2ND – EIGHT-WEEK GRIT CHALLENGE BEGINS | EIGHT-WEEK BOOTCAMP BEGINS
MEMBERSHIP CHANGES
We accept and process all changes to your membership through email. Please send your requests to [email protected]. Simply write an email to us with the changes you would like to make to your account.