We want to give a shot out to all of our members! June was a great month with big events, big prizes and a great community feeling. We kicked off the summer by welcoming many new members and returning members alike. The Ogden Athletic Club is more than a place to exercise, it is a place to belong. Thanks for being part of our club family!
OUR NEWEST OFFERING: ELEVATED NUTRITION

Elevated Nutrition is a customized nutrition coaching program designed to help you reach your goals with your preferences and lifestyle in mind. Whether you need a lot of support or a little, each level of accountability will give you exactly the amount of help you need.
At Elevated Nutrition we can offer help with:
Weight loss
Weight gain
Building muscle
Macro coaching
Improving athletic performance
Creating lasting habits
Creating a better relationship with food
Improving your quality of life
Krystykka is a certified nutrition coach and is ready to help you make lasting change! Even though it is summer, that doesn't mean you can't start making changes today! Contact her at [email protected] or 715-379-7537 to book your free consultation to see if Elevated Nutrition is right for you!
SPOTLIGHT ARTICLE

Nicole McConkie, France Ironman, 2019
The saying goes, "champions are not born, they're made." But have you ever had the thought, I wish I knew how they are made; how do they train to break barriers and overcome obstacles…to become a champion? If road races or triathlons are in your future, we have answers for you.
Meet Nicole McConkie, OAC lead cycling instructor and triathlon champion.
Nicole dabbled in triathlons a little about 17 years ago but got serious about the sport after having her last child, about 11 years ago. As a youth she was a swimmer. Later she added cycling to her repertoire. Before long cycling was more than just a hobby, but a passion, yet she still wasn't achieving the results she hoped to achieve. It wasn't until a friend made a training suggestion that things started to change.
Nicole related: "I vividly remember the conversation I had with a friend that suggested I start riding with a power meter. 'It will change your life,' he said. I wasn't sure I believed it could help me be a stronger rider, but I went for it. I got a meter on my bike I ride outside. Shortly after, the club (Ogden Athletic Club), got Stages indoor bikes with a power meter and it has changed my life. I have had many races that I have made it to the podium as well as qualifying and racing Ironman world in France. I do most of my riding at the club on the Stages bikes. I find it the most convenient and beneficial way to train on the bike. The science behind the color zones works. No matter how big or small your goals are, training with power can help you achieve those goals."
"Outside of cycling classes I try to do two BodyPump classes and one sculpt class each week. I feel strength training is so helpful and important to balance out all the cardio from swimming, biking and running. Preparing for a race I will do brick workouts. A bike and then a run usually to get my legs used to changing sports. Training for an Ironman requires some long rides and runs. I prefer to be outside but have been thankful to have the club on days outside just won't work. The workouts inside I feel are the biggest "bang for your buck" kind of thing. When short on time it is so convenient to make a few adjustments to the bike and you are ready to ride. The color zones help you challenge yourself in a way that is difficult to do outside. Once you ride outside after zone training inside you can see the benefits of your time inside."
This June, Nicole took 1st Place in the East Canyon Triathlon women's division and placed 10th overall with a time of 2 hours 20 minutes.

At the Ogden Athletic Club, we have cycling classes six days a week at all different times of the day. Each class utilizes the StagesStudio Pro cycling program, with the power meter tracking that Nicole depends upon to increase her race readiness. If you want to ride with Nicole, join one of her Endurance Cycling classes: Mondays at 9am or Saturdays at 8am. She and our other amazing instructors will help you find where you are now and become the rider, perhaps even the champion, you want to be!
WHAT'S HAPPENING AT THE CLUB?
We have some new faces, in some new places! Please join us in welcoming Tracy Ropelato as our new Maintenance Manager, Lynsi Poll as the new Kids Club Assistant Manager, Harrison Endicott as our new Head Lifeguard.

Hi my name is Tracy Ropelato. I am excited to be joining the maintenance staff here at the OAC. I have recently been working the opening shift at the front desk and prior to that have been a member here for over 15 years. My wife, son and I live in Washington Terrace and enjoy spending time together outdoors. I am looking forward to helping the OAC operate at its best level.

Hi! I'm Lynsi Poll, I have been married to my husband for 11 years and have 5 busy kids! I am a busy body and like to always be doing something or going on adventures with my family. I have worked with kids most of my working life and love watching them grow and learning what makes them each unique. Working at the club for 2 years, I have gotten to know most of the kids and their parents that come through the kids club, and have enjoyed watching the littles grow! This past year has brought lots of challenges and if there's one thing I've learned is kids are so resilient! I am grateful for this opportunity to grow and continue being a small part of the kids, and their parent's lives. Thank you for trusting me/us with your kiddos while you get some me-time in!

My name is Harrison and this is the third year that I've guarded at the club! I'm 18 years old and just graduated from Weber High School as a part of the class of 2021. Some hobbies I enjoy are: nature photography (especially birds), spin cycling, and writing! I'm headed to BYU Provo in the fall to major in History. I'm an Eagle Scout and former member of the Weber High Swim Team where I lettered all four years while swimming the 100 yard Butterfly and 200 yard IM. I'm very excited to take on this new responsibility as Head Lifeguard!
THE TENNIS DOME

The tennis dome is up, the paint is almost finished, the anticipation is rising (and the smell from the paint is subsiding). We will be up and running in a couple of weeks and anticipate big things happening within our tennis program.
TENNIS LESSONS
IT'S NOT TOO LATE TO SIGN UP FOR SUMMER TENNIS!
CONTACT THE FRONT DESK TO SIGN UP AND FOR ADDITIONAL INFORMATION.
SUMMER YOUTH PROGRAMS
It's not too late to get your kids involved in fitness this summer. Sign up for our remaining sessions is going on now.
YOUTH 4300'SC
Our youth 4300' strength & conditioning program is the perfect mixture of functional movements, speed, agility, strength training, and fun to get your kids elevated to the next level!
YOUTH STRENGTH & CONDITIONING
TUES. & THURS. - $49
8-11 YRS - 11AM - 12NOON
12+ YRS - 12NOON - 1PM
*SESSION 2 - AUG. 3 - AUG. 19
YOUTH WEIGHTLIFTING 4300'SC
Did you know youth athletes who incorporate weight lifting into their training reduce their risk of injury by half? Our 4300' youth weightlifting class is the perfect way to get your kids safely power and Olympic lifting. We will have one more mini youth weightlifting session from August 2 - August 18.
TEAM TRAINING
Available for groups of 6 or more, for all ages and sports. Get your team in shape during the off season. Customized to fit the needs of each team!
**Contact Krystykka at [email protected] or 715-379-7537 for any information on 4300'SC youth programs or to sign your kids up!
YOUTH BOOTCAMP
Youth boot camp is a 30 minute class designed to get kids moving and active. They will learn form and execution of basic exercise modalities, while moving to music and having a lot of fun. Each class will include circuits, obstacle courses, and/or speed and agility drills! No weights will be used, this will focus on body weight training. It's about fun and movement! Price includes a T-shirt and pool party on July 30th (only need to attend one session to attend)! Sign up in the front lobby.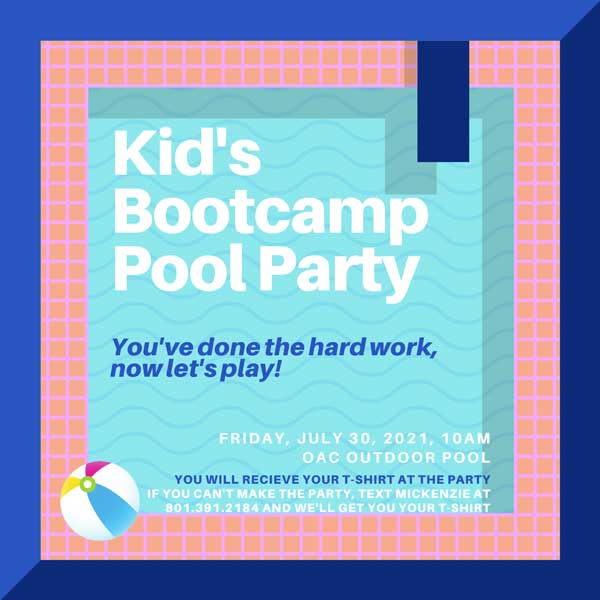 YOUTH BOOTCAMP
MON. & WED. - $29
6-8 YRS - 10AM - 10:30AM
9+ YRS - 10:30AM - 11AM
SESSION 2 - JULY 5 - JULY 28
** NOTE: END OF BOOTCAMP POOL PARTY WILL BE FRIDAY, JULY 30TH AT 10AM
If your child is not able to attend the pool party, their T-Shirt can be picked up at the front desk after July 7th.
JUNIOR FITNESS CLASS
Available to junior high age youth (6th - 8th grade). The class is one hour in length, including very informative instructions on warm-ups, stretching, weight training, abdominal exercises, cardiovascular training, and nutrition. Upon completion of this class the participant will receive a name tag (Junior Pass). The Junior Pass entitles the holder to participate in the Fitness Center with no adult supervision. Must pre-register by Thursdays at 1pm to attend.
JUNIOR FITNESS CLASS
ONLY NEED ONE SESSION
THURSDAYS 4:30 - 5:30PM
$10 - ONE TIME FEE
6TH - 8TH GRADERS
SWIMMING LESSONS
SWIMMING LESSONS
START JUNE 8TH
REGISTRATION GOING ON NOW!
CONTACT THE FRONT DESK TO SIGN UP AND FOR ADDITIONAL INFORMATION.
KIDS CLUB AND CHILD CARE
JUNIOR LOUNGE
Parents, please remember that children who are under 5 years old need to have a parent with them to be in the junior lounge or they need to be checked into the kid's club. We love that your older children are great brothers and sisters, but we want to make sure your little ones are safe while at the club.
KIDS CLUB
Please remember to sanitize your children's hands as they come in and out of the kid's club also, please do not bring your children if they are sick. We miss them when they are not there, however with their little immune systems rebuilding, we want to keep the kids club as healthy and safe as possible.
MEMBERSHIP CHANGES
We accept and process all changes to your membership through email. Please send your requests to [email protected]. Simply write an email to us with the changes you would like to make on your account.
CALENDAR ITEMS
JULY
24 -
Happy Pioneer Day!
Special Hours 7AM - 6PM
Group Fitness class schedule will remain the same.
30-
Kids Bootcamp Pool Party @ 10am – Outdoor Pool