THE CLUB NEWS

We are honored to announce that the Ogden Athletic Club has been named 2022 Best of State award winner for Private Fitness/Recreation Facility for the fourth consecutive year and Personal Training for the third consecutive year! Thank you to our employees, trainers, staff, and our members for making the OAC one of the most sought-after clubs in Utah.

We invite you to experience all the club has to offer, let it be your hub for summer fun! The outdoor pool is open and with temperatures on the rise, it will be the perfect place to cool off. Our tennis dome, in-door track, fitness rooms, and classes are the perfect place to cool off and cross-train for your outdoor recreation activities. Kids' summer classes start next week, Monday, June 6th. Make the OAC your happy and healthy place to play this summer!
OUTDOOR POOL HOURS:
Monday 11am-8pm | Tuesday - Friday 11am-7pm | Saturday 11am - 5:45pm | Sunday 11am - 3:45pm

Welcome, McKenna Martin, to our OAC management team! McKenna has accepted the offer to become our Assistant Group Fitness Manager. She will be working directly with Mickenzie Brooks to oversee all aspects of the Group Fitness department. She will be leading and managing the Kids Group Fitness offerings this summer as well.
A little bit about McKenna: "I grew up dancing, power tumbling, and cheering so being active has always been a huge part of my life. It wasn't until 2014, after my first baby was unfortunately stillborn and I was dealing with heavy grief, that I started going to the gym. I decided to train for Les Mills Body Pump and that was the beginning of my love of fitness!! Since then, I have trained in several classes and am currently teaching Body Pump, Grit (a personal favorite), Barre, and Cycling. I love making people feel strong and helping them realize that they are stronger than they think they are! I love talking and making friends almost as much as I love exercising so if you see me, definitely come say hi and I will talk you into coming to a Grit class!"
Summer is here, it's time to have fun and get fit. **Due to scheduling issues, the first session has been canceled.** Kids Group Fit classes will start July 11 and go through August 14. Be sure to sign up for these great classes before it's too late. NEW PRICE: $39 for OAC members and $59 for non-members. To sign up, email McKenna Martin at [email protected] or stop by the front desk. End of summer pool party will be held Friday, August 5 at 10 AM.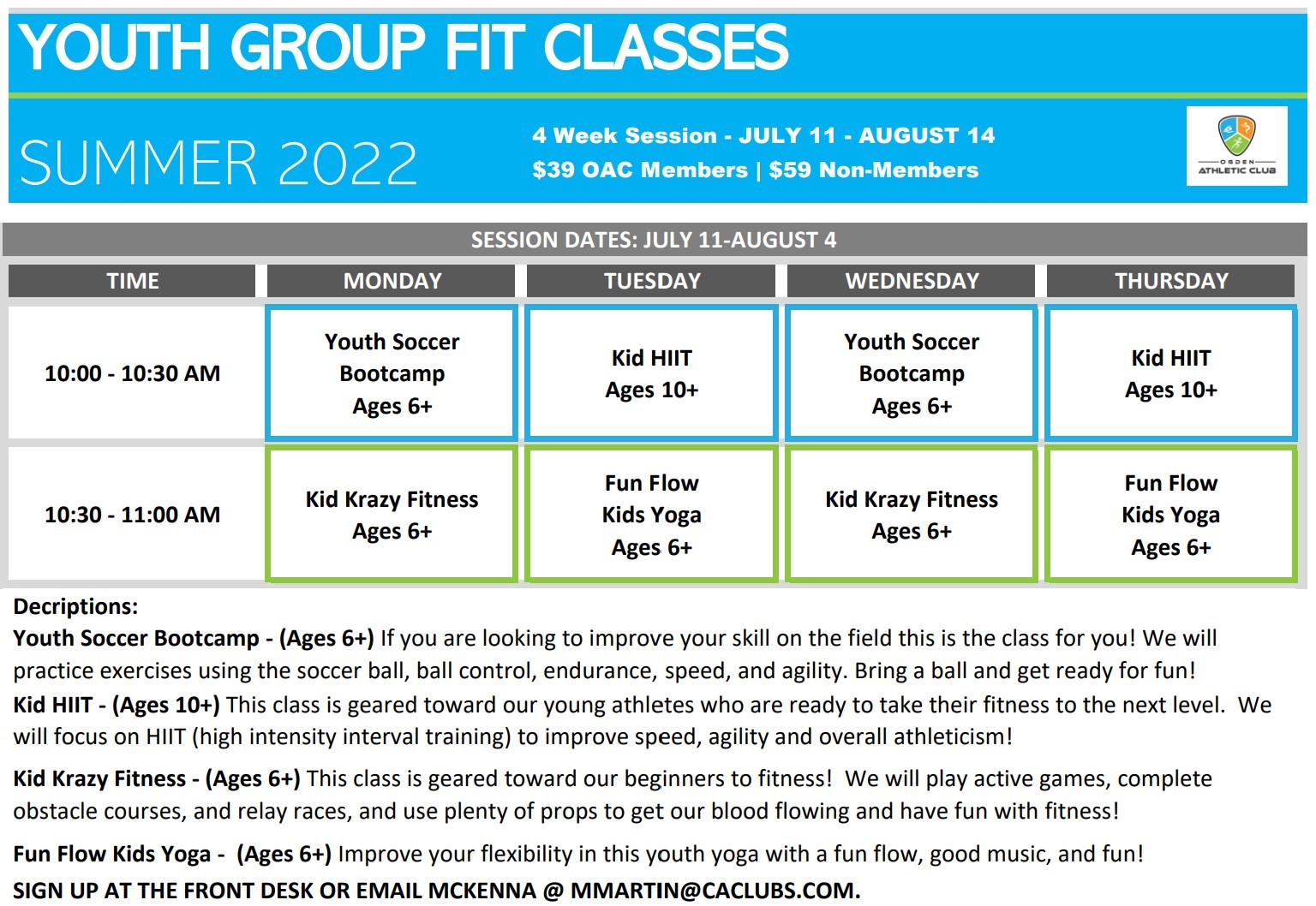 Youth 4300 Strength & Conditioning -
Our Youth 4300 Strength and Conditioning will be back for mini 3-week sessions this summer! This class is perfect to supplement with any sport or for any kid who doesn't play sports! Keep your kids active this summer with this hour-long class which incorporates speed, agility, plyo-agility, weight training, and conditioning! Spots are already starting to fill up. Contact Krystykka at [email protected] for more information or to reserve your spot today.
3 Weeks - $55 for OAC members
Tuesday & Thursday
8-11yrs - 11am - 12noon | 12+ yrs - 12noon - 1pm
Session 1 - June 7 - June 23 | Session 2 - August 2 - August 18
Youth 4300 Weightlifting -
Our Youth 4300 Weightlifting class will also be back for 3-week mini sessions this summer! Youth weightlifting and strength training has been shown to reduce the risk of injury, improve joint flexibility, and core strength, and improve sports performance. Our Youth 4300 Weightlifting class is the best way to create a great foundation for the future, build strength, build confidence, and build resilience in your kids. Contact Krystykka at [email protected] for more information or to reserve your spot for this summer.
3 weeks - $55 for OAC members
Monday & Wednesday
13+yrs only – 11 am-12noon
Session 1 - June 6 - June 22 | Session 2 - August 1 - August 17

Ladies Who Lift will be back this summer for 3-week sessions to keep you going over the summer! Ladies Who Lift is our newest class at OAC to help women build confidence inside and outside of the gym. This class is designed for women who are both new to weightlifting and have years of experience. All skill levels are welcome!
Here is what one of our awesome ladies had to say about our first session:
"I am stronger and have more confidence lifting after taking the course. Krystykka explained proper form and technique in every class, which was very helpful! I will definitely sign up for another session of Ladies Who Lift!"
-Catherine D.
Our first summer session will start in June! Contact Krystykka at [email protected] to sign up!
Session I: June 6 - June 22 | Session II: August 1 – August 17
Monday & Wednesday 10am - 11am
$55 for OAC members

4300'SC spent their Memorial Day honoring those who have paid the ultimate sacrifice by doing their annual hero workout Murph. 4300'SC will continue to do hero workouts all week long this week in honor of fallen soldiers. New prospective members of 4300'SC always get up to 2 weeks free to try it out! Contact Krystykka with any questions about 4300'SC or to start your free trial at [email protected].

Summer is here which means more travel, more vacations, and less strict schedules. Elevated nutrition is here to help you through your busy summer months. We can help you not lose progress, plan, make habits, and keep your nutrition in check! Whether you are looking to lose weight, gain muscle, or just be healthier... Elevated Nutrition is here to create a custom program that works for you. Contact Krystykka at [email protected] to set up your free consultation.
Here is what one of our amazing clients said about their experience:
What did you like best about nutrition coaching?

The things I liked best about nutrition coaching were the confidence I gained in planning out my meals in a way that I knew I could have my food well thought out ahead of time and having someone there to keep me accountable of what I was eating and if I got off track to help encourage me back on.

How do you feel like you changed? Mentally, physically, and overall health?

The biggest changes I noticed came in my self-awareness and confidence in what I eat and what it does for my energy levels. I've also made significant gains in strength in accordance with following the meal plans and workout regimens I have followed.

What do you think was the most helpful about working with Elevated Nutrition/Krystykka?

Krystykka practices what she preaches with her clients, and you can tell she really does care about getting you to the goal you present her with. She expects the same amount of effort from you as she puts in and having someone as attentive as she made my time well worth it!

Would you recommend Elevated Nutrition to a friend? Why or why not?

Absolutely, Krystykka knows her stuff and made a change happen for me that hasn't happened in four years of my fitness journey. I'll recommend everyone I know to her.

We were truly fortunate when we first joined the Ogden Athletic Club to receive Haley as our personal trainer. We were so impressed at that time with her kindness and expertise. She developed a customized plan for each of us and guided us through the proper way to perform each of the exercises.
We absolutely loved working with her. We are so happy to be training again with Haley after the pandemic. Haley is very competent, friendly, and amazing as a coach. Her style is to encourage and inspire. We always do more with her help than we would on our own. She is an outstanding athlete, but never intimidates or pressures to go beyond our personal limits. Rather, she listens and knows exactly what to do to compensate, protect the body, or a better way to work around issues, to strengthen, heal, and improve.
We returned to the club after the pandemic, with back and knee issues. Lori was to the point of avoiding stairs. But after one training session with Haley, her knees DO NOT hurt to climb stairs. We appreciate her clinical expertise to know just how to help us improve. Her core work ethic is to make life better for her clients outside the gym. She is genuinely concerned about our well-being and wants us to be strong and active. We give her our highest recommendations from her skills as a personal trainer to our friendship and love for her. She is just the best!
- Roger & Lori Grua

Save the date! June 27th thru July 2nd will be a week-long celebration party and FREE WEEK for guests. Join us early in the week for our Les Mills Classes: BodyPump, BodyCombat, BodyAttack, and Les Mills Grit as we bring to you fresh new releases! Throughout the remainder of the week, we will feature a class each day. Fun, prizes, and celebrations can be expected all week!

Looking for a happy and healthy place to work? We are seeking friendly, dedicated people in multiple departments throughout the club. Where will you fit?
Housekeeping | Jr. Lounge | Kids Club | Lifeguards | Swim Instructors | Front Desk
If you are interested in applying for one of these positions, download our application here: /public/careers-job-application. Send completed applications to Jan Carlsen at [email protected].
JUNIOR LOUNGE AND KIDS CLUB HOURS
Junior Lounge and Kids Club hours are as follows:
JUNIOR LOUNGE HOURS
Mon – Fri: 3:30 - 8:30 PM
Sat: 8:30 AM – 2:30 PM
SUMMER KIDS CLUB HOURS
Mon-Thurs: 8:30 AM – NOON & 4:30-7:30 PM
Fri/Sat: 8:30 AM – NOON
CALENDAR
JUNE
JUNE 1ST – JUNE 5TH - NO TENNIS LESSONS
JUNE 6TH - SUMMER PROGRAMS START
• Summer Tennis
• Session 1 – Kids Programming (see above)
• Session 1 – Swim Lessons
• Ladies Who Lift (see above)
JUNE 21 – SESSION 2 SWIM LESSONS BEGIN
JULY
JULY 4TH – INDEPENDENCE DAY – CLUB CLOSED
JULY 4-9 – NO SUMMER KIDS PROGRAMS
JULY 11TH – THE SECOND SESSION OF SUMMER PROGRAMS BEGINS


MEMBERSHIP CHANGES
We accept and process all changes to your membership through email. Please send your requests to [email protected]. Simply write an email to us with the changes you would like to make to your account.