From the General Manager

I am excited to see the club open and in the yellow zone! It has been so nice to see all of you come back and to feel the energy, camaraderie, and enthusiasm for fitness and social encounters. I value each of your memberships, as you truly are the lifeblood of our club. I also continue to be impressed with the response in sanitizing and disinfecting from our employees and our members.

The Club will continue to have members wash their hands when entering and clean the equipment before and after use. We will continue to observe 6 ft social distancing, or family groupings, in all areas of the club. Our employees will continue to sanitize and disinfect all high touch points and stay vigilant in keeping to our protocols to keep you safe.

Things have been changing at a rapid pace and I know that it has been hard to keep up. I hope this information will help and as we finalize (if that's even possible) our schedules for June and July, please be patient. We will try to take care of everyone's needs the best we can, and we may need to tweak a few things here and there as we learn more and get more feedback from you (our members) and weber county, and process through our ever changing financial budget.

Have a Happy Memorial Day. Below is some new information for you from each of our Departments.
Sincerely,
Jan Carlsen
General Manager

Summer Holiday Hours
Memorial Day 4:30 AM - 6 PM, July 4th - Closed, July 24th 4:30 AM-6PM

Guests
We are still open to members only. No guests at this time. For those who want to join they may join now online at ogdenathletic.com.

Membership Changes
We accept all changes to your membership through email. Please send your requests to [email protected]
Front desk Message from Taleea

Hello Ogden Athletic Club members,
We are so excited to have you back at the OAC, we have missed seeing you everyday! Here at the front desk we are lucky to see and interact with each member that comes through the door! We hope you are excited to be back because we are happy to have you here at the OAC!
We appreciate your patience in this challenging time as it takes us a little longer to get checked into the club.
We hope you have enjoyed some of the changes throughout the club along with the safety measures we have taken to keep YOU safe and our STAFF safe. We are up to the challenge of doing our part for our community and our members, we want you to stay safe and healthy as you come to the club each day! We encourage you to try something new and to tell your family and friends we are open and ready to fill their needs to become healthy and active! We look forward to seeing more and more members coming back!

Thanks,
Taleea
Front Desk Manager
Swimming Pool Area

We currently have the pool down due to the pool pump going out on Sunday, May 17. We agree that the timing was not great, but it was out of our control. We have had servicemen come to fix it, but it will take a full replacement. Unfortunately, we have learned that we can't get it here until Friday afternoon. Then we have to install it and the water temperature has to heat up as it is not circulating through the heater now. We are shooting for a full opening Saturday - though the water might be chilly.

We now have our hot tubs, steamroom, and sauna open. We are still enforcing social distancing at 6ft., therefore we have a 2 limit, or family group, in each area of the hot tub area with a 10 minute time limit if members are waiting.

Due to the Covid19 closure this year, we are sorry to announce that we will not be able to open our outdoor pool. However, we will be making the best of our situation and we will be rearranging lounge chairs and tables around our pool and other areas to be able continue a fun family environment. We are excited to see what kind of creative things we will be able to do this year as we enter into a summer full of new challenges. We never envisioned the impact that we had this year and our goal is to bounce back with new and innovative ideas to make things fun in a new way!

Our indoor pool will be in transition over the next few weeks as we work on our summer schedule and finding a balance for all our individual pool needs. This schedule is being fine tuned and will be available at the end of the week.

Some small group swimming lessons will be offered and we are working out the details of these this week. We will keep you informed. Private lessons will be available.
Group Fitness Update Form Becky

It's been a long few months without our friends and members in our classes. We've done the virtual classes to keep our connections strong, but there is something about seeing that person smile at you in your class. We've gone from ten foot distancing and 30 minutes between classes, to six foot distancing and in June, 15 minutes between classes. I've seen our classes grow, but what I've really seen are our instructors stepping up and keeping up these personal relationships in the midst of chaos. We plan to have our kids and family athletic classes and some classes outside this year to embrace our changes and to share in the joy of fitness. We love our club!

Becky Voigt
Group Fitness Manager
[email protected]

Don't forget to sign up for Bootcamp or Aqua BootCamp ! Two great classes to get you in shape and super fun~
Recreation Center Update from Dave

We're excited to have the basketball We have brought back running on the track, as well as Adult basketball games ( with a temperature check before play). We are staying very clean!
We provide a safe place for shooting, dribbling, ball handling or simply to be here to shoot around and have fun. Our members will play games like Lightning, 2 vs 2, 3 vs 3 up to a full court game of 5 vs 5. Other mini competitions they will do is 7 on the line, a three-point contest or a game of 21. Members who want to get cardio in, but don't want to run on the track, treadmill or be on a bike, come back to play basketball. We're happy to see you back enjoying this great area!

Dave Thomas
Recreation Center Manager
Kids Club Update from Rita

Dear Families,
As I placed the final touches in the Kids' Club before reopening, the rooms looked tidy and quiet; yet, it felt sad. This is because the Kids' Club is meant to be messy with the toys strewn about. It's meant to be loud and filled with your children's laughter as echoes of joy race throughout. The entire Kids' Club team misses you very much! We couldn't have been happier to welcome the first group of kids back into the Club! We hope to see more of you in the days to come.
I have attended a Childcare webinar for health and safety requirements, as well as researched some new activities. I have some fun ideas for the upcoming weeks that may include special days, creative games, and supervised outdoor time on the OAC property.
We would like to put your mind at ease and inform you that we are following the Weber County guidelines closely to ensure the safety of you, your children, and our staff.
We strive to do our level-best to provide a fun, clean environment, as well as diligent employee health monitoring. We will continue doing this to ensure you may take the time to work on your personal goals while knowing your children are well taken care of.

Sincerely,
Rita Thompson
Kids' Club Manager
[email protected]
Fitness News From Haley

Welcome back everyone! The fitness department is super excited to be back to help all of you achieve your post-quarantine fitness goals!
Looking to reach your fitness goals? Come meet with a personal trainer for a free session that is included in your membership. Our Jump Start program can get you started towards your goals by reviewing your fitness and nutrition history and take your exercise routine to the next level. This 1-hour session is designed to get you from where you are now to where you want to be. Sign up today - just email me at [email protected]!

We also offer 1-on1 personal training that will be customized to your specific individual needs and goals. Your first hour is free with Jump Start! You will receive customized exercise plans, nutritional and fitness education, positive motivation and encouragement.
Fee: $30 for half hour session, $60 for hour session
Bonus! Buy a 12 session package and only pay for 11.

Haley Clausse
Fitness Manager
[email protected]
Junior Lounge Area

Kids areas are open with activities like ping pong, air hockey and pool. We will be doing some great games and small events - BINGO is coming soon. Our staff has some new summer fun coming your way! Get Ready!

We will continue to ask for members to help clean high touched surfaces after using. There are disinfecting stations in every room.

See you all soon!
Cody Carlsen
Junior Lounge Manager
Tennis

Group Tennis summer program will start on June 1. We are in the process of putting the sign-up online. We hope to have this done at the end of the week. The tennis department is excited to be back and run quality lessons for you with the addition of Scott Kruger, our new Tennis Director. Below are the classes we will offer. Instructions for online sign-up will be out soon. Contact Brady at [email protected] for more details.

Due to Covid19 and the age of the bubble, the small bubble on court 7 and 8 will be staying up this summer. As usual, we will not charge court fees for the use of these courts during the summer months.

Until June, please come and get the rust out of your game with the free classes we are offering each week! Contact Scott at [email protected] for more information.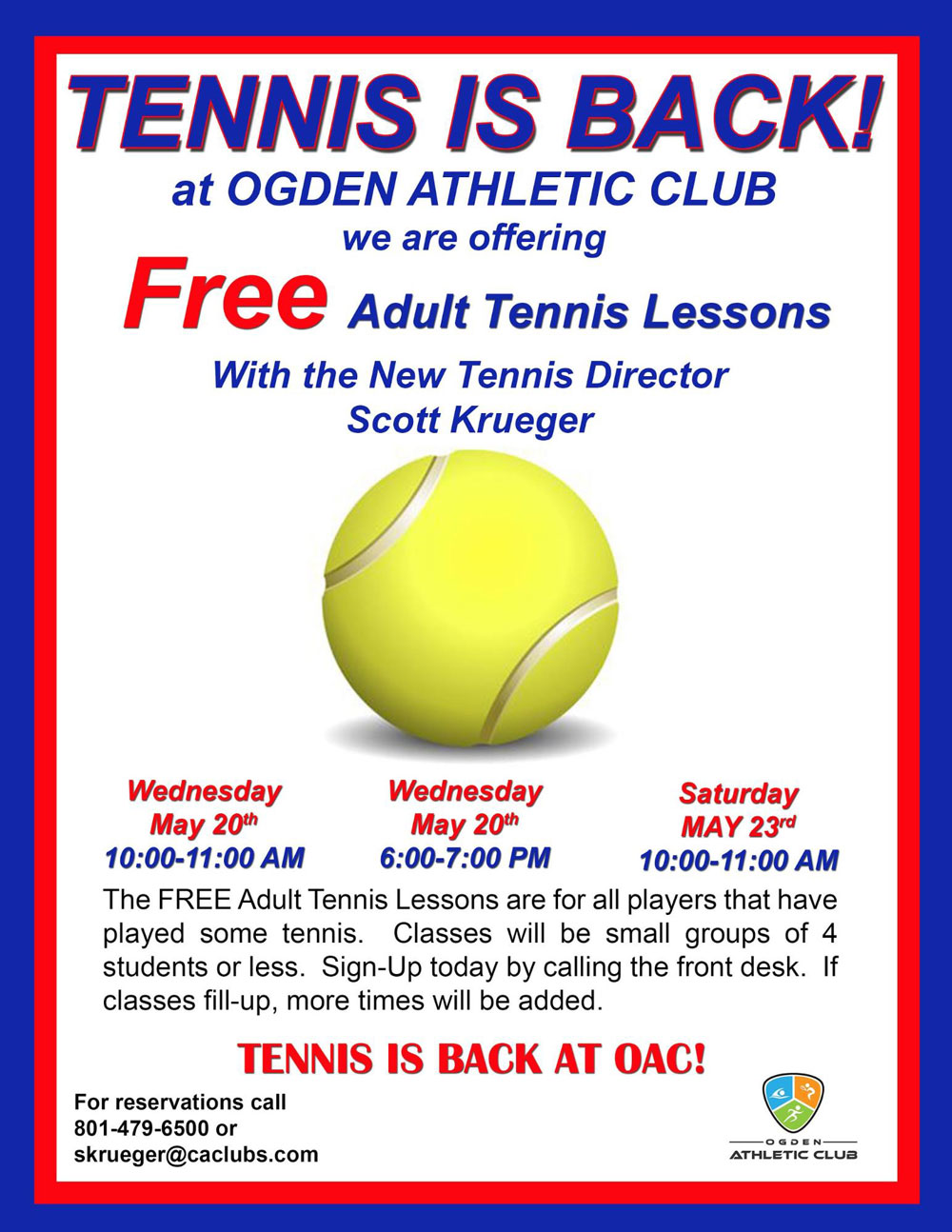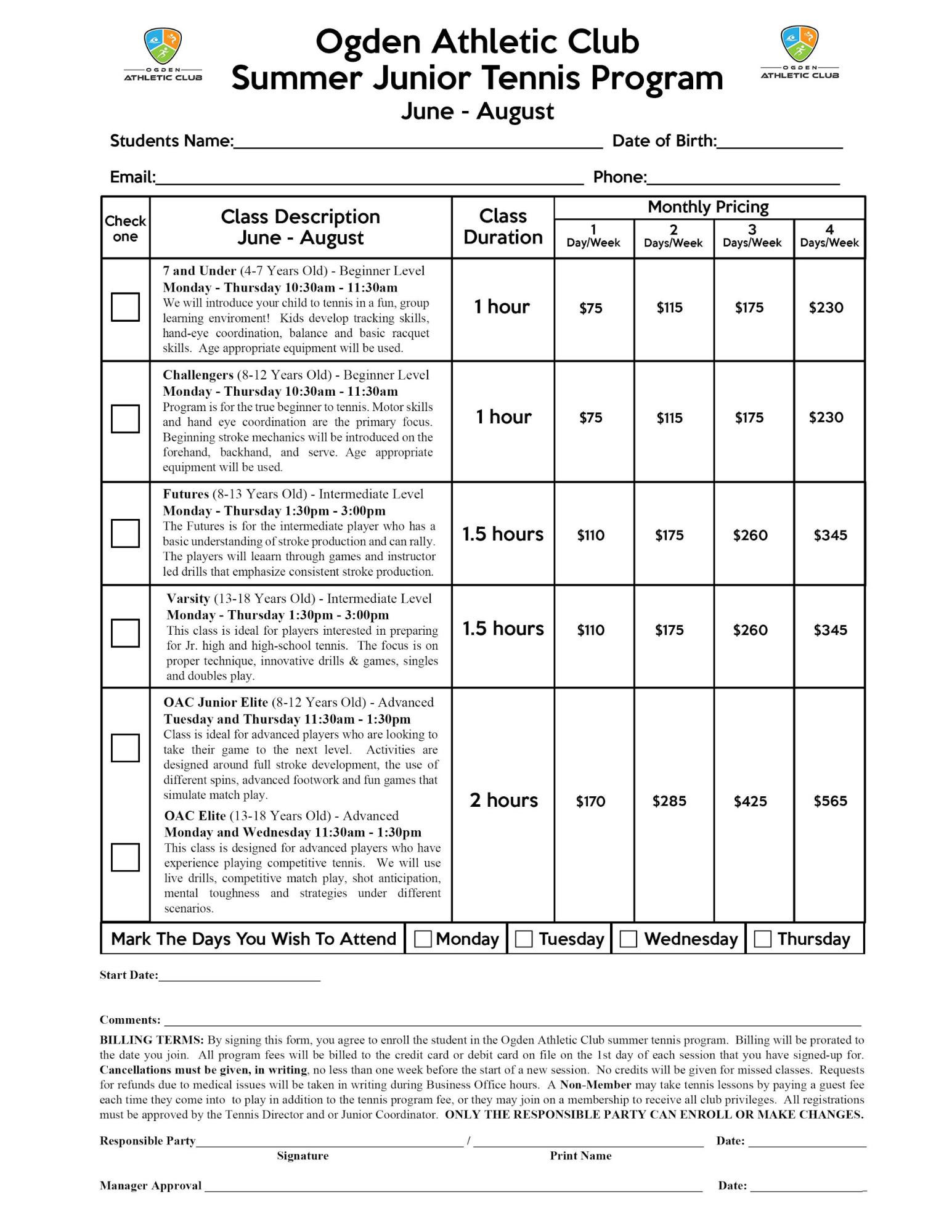 TRX WITH BRIELLE COMING SOON

A beginner class on the TRX suspension training straps is coming in June. Learn proper technique for exercises to build strength and endurance. Starting with the basics and progressing to more advanced exercises. Each class we will focus on a different area of the body and increase mobility and stability. Challenge your entire body and come ready to sweat!

Contact Brielle at [email protected] for more details.
4300'SC Update

It has been wonderful to be back coaching and working out with our 4300ers again! We want to thank all of you for your continued support and cooperation with our new guidelines and class times. All of our athletes have been amazing during this transition time. Next week, starting on Memorial Day, we will be paying tribute to fallen members of our military and those who have paid the ultimate sacrifice for our country, by doing a hero workout every day in their honor.

Our 4300 Youth Strength & Conditioning program is currently on pause, but please watch for future sessions hopefully coming your way later this summer!

All OAC members are welcome to come try a class at any time! 4300 Strength & Conditioning is a program that is open to all fitness levels and all ages! You do not need any previous experience to check us out! Contact Krystykka at [email protected] to see how 4300'SC can change your life and elevate your fitness to the next level.
Maintenance department has a new tech

Keeley Cragun has worked part time for the club within the maintenance department for around two years and she has accepted the full time tech position. She focuses most of her time on the preventative maintenance of our equipment. She has it sparkling like new. The transition to opening went fairly smooth. During the time we were closed our department utilized the opportunity of an empty club to get some work done. We accomplished fixing, and painting the ceiling in the women's pool locker room. We fixed and painted the ceiling in the pool spa hallway. Did a revamp of the womens fitness area with new paint and all LED lighting. Upgraded the lights in Business offices to LED and upgraded the lights in the hallway to the spin room to LED lighting. We also replaced several damaged carpet tiles in the entrance. We were able to help in the preparation to open by making things as touch free as possible by removing turnstyles and installing new hand sanitizer dispensers at the front desk. We were able to get the approval to purchase some UV lights that we utilize in our large group fitness room and at the front desk. These lights allow us to improve on sanitation. Finally, we launched a new work order tracking program that will allow us to track better the work that we are performing and the parts that we are using.

Lance Palmer
Facility Manager