FROM THE GENERAL MANAGER
It has been so amazing to see all of you come back and to feel the energy, camaraderie, and enthusiasm for fitness and social encounters. The Club had a challenging year in 2020 and the staff and I are excited to see the weather warming up and the members that we haven't seen in over a year coming back. The reunions between members and staff have been so heartwarming. When so many of you had left for COVID, there was a void that couldn't be filled by anyone or anything else. You were truly missed. I appreciate and value each of your memberships, as you truly are the lifeblood of our club.
I also appreciate all of you who continue to clean your equipment before and after each use. These cleaning protocols are so important to keep all our members safe from colds and flus, as well as just make the club clean and sanitary for each other.
I am excited to announce that the Club received the Best of State award for 2021 for a private recreation facility. This is the third year in a row receiving this recognition. We also received the Best of State award for the best personal trainers in Utah, second year in a row. Our employees have always been top notch and have a special way to motivate you and keep you coming back. Congratulations to our members and employees who continue to provide an authentic, healthy and supportive atmosphere for each other.
As we continue to see more members coming back to the Club, we are encouraged to keep moving forward with some special projects this year. We have already put in new Matrix equipment downstairs and a new Matrix Climb Mill upstairs. We have redone the steam room and are getting bids to upgrade the dry sauna area. Our Comcast provider is running a new line to the building, since the road construction last year has created a pixelated screen on some of our channels (Comcast's window for completion of this project was between 30-90 days).
If you haven't taken a cycling class lately, you should try the new Stages program that will email your results after each class and let you track your workouts. This is a great way to keep motivated. And our cycling instructors are the best in Utah.
Our tennis bubble project continues this month. We have put in the new air handler and generator, we will be pouring new asphalt and putting up the dome soon (weather pending). Our summer tennis program will start in June for juniors and adults, so don't miss out, get registered early.
We are also preparing the outdoor pool. This year we have had to put in some new systems in the back to meet current Utah regulations. We are looking to open on Memorial Day weekend, as always pending weather conditions, it must be 70 degrees and sunny to open our outdoor pool.
I appreciate all of you who are giving feedback on the surveys that we send out every 90 days, and all the kind words of support and new ideas help us to grow and to meet your changing needs. I would like to give a special thank you to all the Club Mom's who come out and support the club each day. I'm always impressed with how well your kids are dressed and put together, and how healthy and active you all are. Happy Mother's Day to all of you. You work hard and play hard and we appreciate each of you.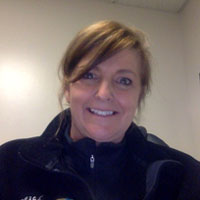 Sincerely,
Jan Carlsen, General Manager
WHAT'S HAPPENING AT THE CLUB?

Is the club your Healthy and Happy Place? Share a post about WHY you love the club, with the tag: #myhealthyhappyplaceoac and be entered to Win a Kayak! Refer a friend to the club and be entered into a second drawing for a Kayak! (Can you say...matching set!?!) The promotion runs now until May 28th.
SUMMER YOUTH PROGRAMS
YOUTH 4300'SC
YOUTH STRENGTH & CONDITIONING
TUES. & THURS. - $49
8-11 YRS - 11AM - 12NOON
12+ YRS - 12NOON - 1PM
*SESSION 1 - JUNE 8 - JUNE 24
*SESSION 2 - AUG. 3 - AUG. 19

YOUTH WEIGHTLIFTING
MON. & WED. - $49
13+ YRS - 11AM OR 5:30PM
3 WEEK SESSION:
JUNE 7 - JUNE 23

TEAM TRAINING
AVAILABLE FOR GROUPS OF 6 OR MORE, FOR ALL AGES AND SPORTS. GET YOUR TEAM IN SHAPE DURING THE OFF SEASON. CUSTOMIZED TO FIT THE NEEDS OF EACH TEAM!
Shout Out! 4300'SC
"AMAZING GYM! 4300'SC classes are fantastic! All the trainers are super nice and take an interest in you no matter what fitness level you're at. The workouts are led by trainers who give instant feedback and adjustments during the workouts and just the right amount of encouragement. I love how every workout can be scaled to fit my fitness ability, if needed. Because of the variety of workouts, I never have to worry about getting bored doing the same workouts every week. Not only can I enjoy 4300'SC but my children also enjoy doing their youth classes. My 9 year has loved to workout ever since doing the classes. Ever since Coach K taught correct form when lifting I don't have to worry about him getting injured. It's a life changing gym experience and I recommend it highly to all my friends and family!"
-Jennie B.


YOUTH BOOTCAMP
Youth boot camp is a 30 minute class designed to get kids moving and active. They will learn form and execution of basic exercise modalities, while moving to music and having a lot of fun. Each class will include circuits, obstacle courses, speed and agility drills and some outside activities! No weights will be used, this will focus on body weight training. It's about fun and movement! Price includes a T-shirt and pool party in August (only need to attend one session to attend)!
YOUTH BOOTCAMP
MON. & WED. - $29
6-11 YRS - 10AM - 10:30AM
12+ YRS - 10:30AM - 11AM
*SESSION 1 - JUNE 7 - JUNE 30
*SESSION 2 - JULY 5 - JULY 28
JUNIOR FITNESS CLASS
Available to junior high age youth (6th - 8th grade). The class is one hour in length, including very informative instructions on warm-ups, stretching, weight training, abdominal exercises, cardiovascular training, and nutrition. Upon completion of this class the participant will receive a name tag (Junior Pass). The Junior Pass entitles the holder to participate in the Fitness Center with no adult supervision. Must pre-register by Thursdays at 1pm to attend.
JUNIOR FITNESS CLASS
ONLY NEED ONE SESSION
THURSDAYS 4:30 - 5:30PM
$10 - ONE TIME FEE
6TH - 8TH GRADERS
SWIMMING & TENNIS LESSONS

SWIMMING LESSONS
START JUNE 8TH
REGISTRATION GOING ON NOW!
CONTACT THE FRONT DESK TO SIGN UP AND FOR ADDITIONAL INFORMATION.

TENNIS LESSONS
START JUNE 1ST
REGISTRATION GOING ON NOW!
CONTACT THE FRONT DESK TO SIGN UP AND FOR ADDITIONAL INFORMATION.
Shout Out!
"I've been training with Krystykka for a year and a half now. I am in so much better shape than I've been in years. I love working out with her, and will continue to keep up our routine as I want to keep getting stronger with her guidance. She's the best!"
- Joni O., 78
SUMMER HOLIDAY HOURS
Memorial Day 4:30 AM - 6 PM
July 4th - Closed
July 24th 7 AM-6PM
MEMBERSHIP CHANGES
We accept and process all changes to your membership through email. Please send your requests to [email protected]. Simply write an email to us with the changes you would like to make on your account.
CALENDAR ITEMS
MAY
1 -
Sunday Hours Change : 8 AM - 4 PM
Childcare Hours Change: Saturday 8:30 AM - Noon
3 -
Sign-up for Summer Programs:
4300'SC, Bootcamp, Swimming Lessons, Summer Tennis
3RD - 28TH
Win A Kayak -
Post #myhealthyhappyplaceoac or Refer a friend to a Club Program
9 -
Happy Mother's Day
28 -
Outdoor Pool Opens (pending weather)
31 -
Memorial Day Hours 4:30 AM - 6 PM
No Evening Group Fitness Classes

JUNE
1 -
Childcare Hours Change: Open at 8:30 AM
Summer Tennis Lessons start
4 -
Zumba Gold added to Group Fitness Schedule - Fridays @ 11 AM
7 -
Hydro-Aerobics classes change to 8:30 AM - Outdoor Pool Classes available pending weather conditions.
8 -
Summer Swim Lessons start