THE CLUB NEWS

We're preparing for a computer update, and we need your assistance. To get ready for the new system coming in June, we will be updating each member's customer profile.
We may ask for updates including:
New Member Photos
Liability Releases
Or Credit Card Information
Your prompt assistance will help us provide you with a stream-less experience with our new software. Information on how to access the new member portal online will be provided in June. Thank you!

Join us this Saturday, May 7th for National Fitness Day! Bring a free guest, check out any of our great classes, a 4300 SC workout, or try one of our "Cool" ride cycling classes where you will be treated to a cold towel and water bottle in class. Two classes will be offered, Endurance Cycling with Nicole from 8:00-9:00 AM and HIIT 30 Cycling with Camille from 9:15-9:45 AM (or ride for both). Book your bike on the Stages Studio+ App!

Shout Out! to these awesome members and employees. Holland Lythgoe, Haley Clausse, Katie Cassiday, Brent Laseure, and Jennie Buttars recently ran in the Amasa Trail Race in Moab. This is an intense, but beautiful 25K and 15K race through one of Moab's most prized trail systems. They ran past petroglyphs, the famous whale rock, red rock, canyons, and the Colorado River, for an incredible and memorable experience with OAC friends!

Summer Swim lesson registration is going on now. Get the information you need and sign up at the front desk. Session I will begin on June 7th.

Registration for Summer Tennis is going on now. Pick up a signup sheet in the front lobby and turn it in at the front desk. Summer is a great time to get your kids started learning this great sport they can play forever! Spring classes will end on May 31st and summer classes will start on June 6th. (No classes on Memorial Day, May 30th.)

The OAC is offering our largest selection of kids' summer activities. There will be something for every age and every fitness level. Whether your child is a serious athlete looking to improve their skills, a rambunctious youth needing to get some energy out, or a child looking to increase physical strength or flexibility, we have it all!

Youth 4300 Strength & Conditioning -
Our Youth 4300 Strength and Conditioning will be back for mini 3-week sessions this summer! This class is perfect to supplement with any sport or for any kid who doesn't play sports! Keep your kids active this summer with this hour-long class which incorporates speed, agility, plyo-gility, weight training, and conditioning! Spots are already starting to fill up. Contact Krystykka at [email protected] for more information or to reserve your spot today!
3 Weeks - $55 for OAC members
Tuesday & Thursday
8-11yrs - 11am - 12noon | 12+ yrs - 12noon - 1pm
Session 1 - June 7 - June 23 | Session 2 - August 2 - August 18
Youth 4300 Weightlifting -
Our Youth 4300 Weightlifting class will also be back for 3-week mini sessions this summer! Youth weightlifting and strength training has been shown to reduce the risk of injury, improve joint flexibility, and core strength, and improve sports performance. Our Youth 4300 Weightlifting class is the best way to create a great foundation for the future, build strength, build confidence, and build resilience in your kids. Contact Krystykka at [email protected] for more information or to reserve your spot for this summer.
3 weeks - $55 for OAC members
Monday & Wednesday
13+yrs only – 11 am-12noon
Session 1 - June 6 - June 22 | Session 2 - August 1 - August 17

The group fitness staff has developed a plethora of activities to keep your kids active, fit, and entertained this summer. Different programs have different age requirements, so make sure to check which is right for your kid(s). End of summer pool party will be held Friday, August 5 at 10 AM.
Each class is twice a week for four weeks. $49 for OAC members and $69 for non-members. Sign up at the front desk.

Level up your skill on the mountain with some focused indoor training! Monday will be spent in the cycling room on the bikes as we work on endurance and core strength! Wednesday, we will meet on the blue turf, train off the bikes, and focus on exercises to improve balance, strength, agility, and cardio endurance.
Ages 10 and up (25 spots available)
One 4-Week Session – June 6 - June 30
Monday & Wednesday 10:00-10:45 AM

If you are looking to improve your skill on the field this is the class for you! We will practice exercises using the soccer ball, ball control, endurance, speed, and agility! Bring a ball and get ready for fun!
Ages 6 and up
One 4-Week Session - July 11- August 4
Monday & Wednesday 10:00-10:30 AM
This class is geared toward our beginners to fitness! We will play active games, complete obstacle courses, and relay races, and use plenty of props to get our blood flowing and have fun with fitness!
Ages 6 and up
Session I – June 6 - June 30 | Session II (Morning) – July 11- August 4
Monday & Wednesday 10:30-11:00 AM
Session II (Evening) July 11 – August 4
Tuesday & Thursday 5:30 - 6:00 PM

Improve your flexibility in this youth yoga with a fun flow, good music, and fun!
Ages 6 and up
Session I – June 6 – June 30 | Session II – July 11- August 4
Tuesday& Thursday 10:30-11:00AM

DanceFit and Yoga for kids! Looking for a class to improve flexibility and rhythm? This is your class! Tuesdays will focus on yoga and flexibility and Thursday will be dance day, to enjoy some upbeat cardio! This is the kind of exercise that makes you forget that you are exercising! Meet in the yoga room.
Ages 10 and up
One 4-Week Session – June 6 – June 30
Tuesday & Thursday 5:30-6:00 PM

This class is geared toward our young athletes who are ready to take their fitness to the next level. We will focus on HIIT (high-intensity interval training) to improve speed, agility, and overall athleticism!
Ages 10 and up
One 4-Week Session – July 11 - August 4
Tuesday & Thursday 10:00 – 10:30 AM

For a clearer look at what is happening, and when, check out the schedule below.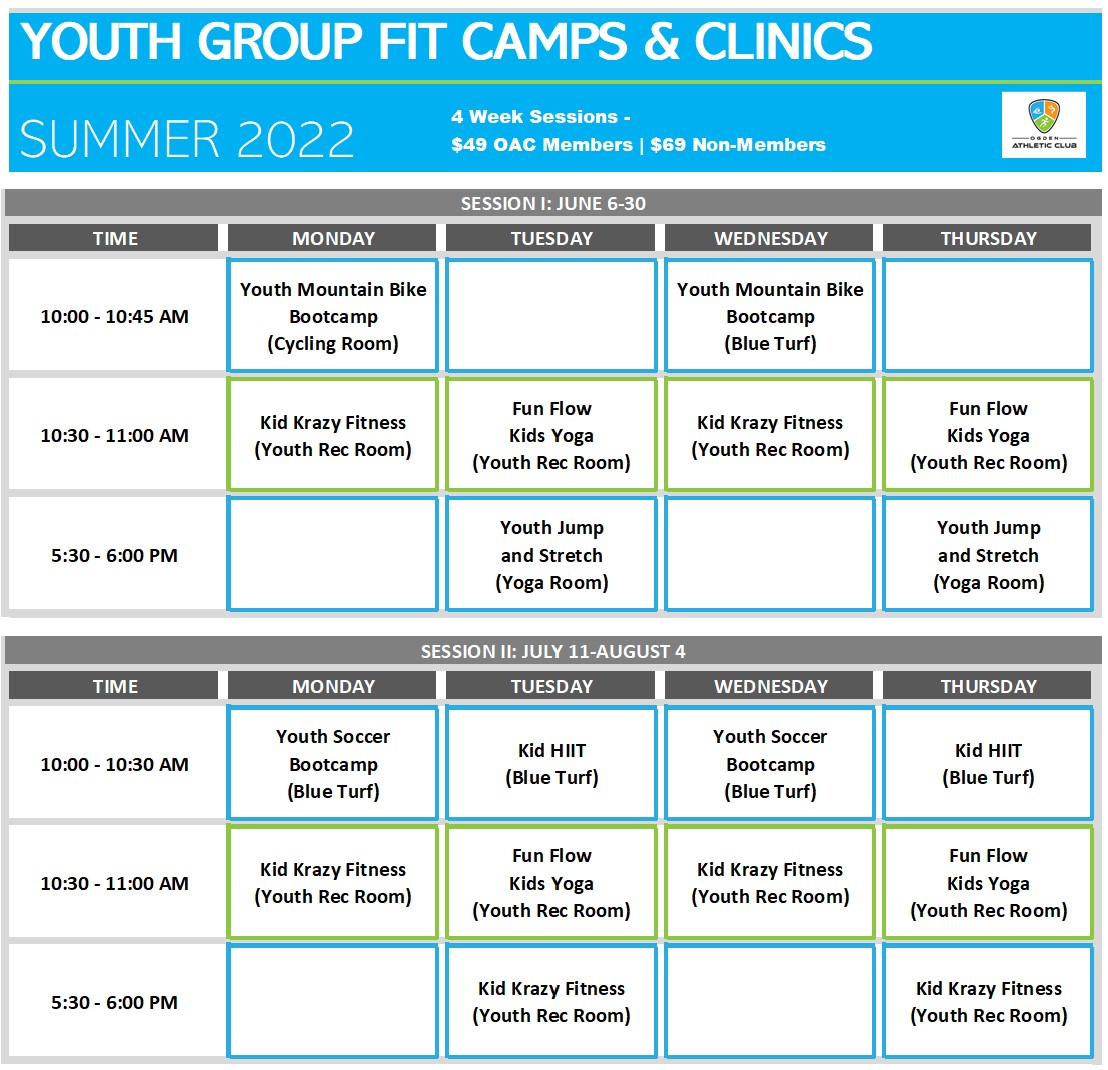 While we don't have fitness classes for children under 6 years old, our Kids Club is always a safe and active place for your children to have fun and use their bodies while you get your workout. Join us in the Kids Club this May for spring crafts featuring cute spring flowers and bugs. The kids will be letting their creativity "fly" with these fun projects!
CHECK OUT OUR UPDATED SUMMER HOURS (STARTING MEMORIAL DAY).
Monday – Saturday 8:30am-Noon
Monday – Thursday 4:30-6:30 pm

Does your teen want to do their own thing this summer? Youth between 6th and 8th grade are eligible to take our Junior Fitness Class, taught by one of our experienced personal trainers. The course is designed to provide best practices and safety information to prepare teens to use the weight room. Once completing the course, they will be given a pass to allow them to use the weight room without adult supervision. Children younger than 6th grade are only allowed in the weight room if actively exercising with a parent. Only one session is needed, sign up at the front desk.
Thursdays 4:30 – 5:30 pm
$10 – One-Time Fee
6th - 8th Graders
Ladies Who Lift will be back this summer for 3-week sessions to keep you going over the summer! Ladies Who Lift is our newest class at OAC to help women build confidence inside and outside of the gym. This class is designed for women who are both new to weightlifting and have years of experience. All skill levels are welcome!
Here is what one of our awesome ladies had to say about our first session:
"Having never lifted weights in this style I was amazed at how much heavier I could lift than I thought that I could. I attribute this to the knowledge, training style, and encouragement from Krystykka. She is an amazing Coach. Krystykka is very knowledgeable in the skill of powerlifting. In a short period of time, I have learned a lot about lifting and a lot about myself. I have always thought that this type of class would be intimidating, however, Krystykka has never made me feel that way. It is a fun, positive class and I can't wait until the next session!"
- Karen Bailey
Our first summer session will start in June! Contact Krystykka at [email protected] to sign up!
Session I: June 6 - June 22 | Session II: August 1 – August 17
Monday & Wednesday 10am - 11am
$55 for OAC members

Summer is getting closer which means schedules are getting busier, and free time is getting shorter. 4300 Strength and Conditioning is here to help you out! All our classes are only an hour-long, which means you can get in and out of the gym with an awesome workout just as fast! Each class includes instructions by our knowledgeable coaches, weightlifting, and some type of metabolic conditioning. There is also mobility and accessory work programmed for those who would like a little extra! New prospective members of 4300 always get up to 2 weeks free to try it out! Contact Krystykka at [email protected] to start your free trial!
Don't take it from us, take it from one of OAC's amazing personal trainers:
"4300'SC is such an awesome program. I love that I can just show up and know that I am going to have a challenging and effective workout in just an hour!"
- Haley Clausse

Summer is getting closer which means more travel, more vacations, and less strict schedules. Elevated nutrition is here to help you get your healthy habits in check before it's too late. Creating habits is one of the key components to making healthy lifestyle changes that last. Whether you are looking to lose weight, gain muscle, or just be healthier... Elevated Nutrition is here to create a custom program that works for you. Contact Krystykka at [email protected] to set up your free consultation.
Elevated Nutrition Testimonial -
What did you like best about nutrition coaching?
That the numbers are calculated based on my specific lifestyle.
How do you feel like you changed? Mentally, physically, overall health?
I feel like I became more well-rounded. Physically I have gotten stronger and have a better mental relationship with food.
What do you think was the most helpful about working with Elevated Nutrition/Krystykka?
Learning what my body needs and seeing the proof of that need. And she was super nice to talk to and tried to help me in every aspect of that goal.
Would you recommend Elevated Nutrition to a friend? Why or why not?
Sure. It's a lifestyle change for the better.

Muscle release and recovery are now at your fingertips. The Theragun station on the Red Turf (to be used solely on the Red Turf) is an incredible way to maximize your training efforts. Our new Theragun station provides you with these great benefits:
Increased Blood Flow
Reduced Pain and Discomfort
Decreased Muscle Soreness
Decreased Inflammation
Improved Flexibility & Mobility
Improved Sleep
Accelerated Warm-ups
Maximized Recovery
If you would like more information or a demonstration of how to use the Theragun products most effectively, reach out to one of our skilled trainers!

Memorial Day, May 30th, we will be open until 6 pm. Childcare will be open in the morning and we will have a special "Fat-Blasting" group fitness schedule. (Keep an eye out for that schedule on the information TVs in the club and on social media). There will be no evening Childcare or Group Fitness classes.

Looking for a happy and healthy place to work? We are seeking friendly, dedicated people in multiple departments throughout the club. Where will you fit?
Housekeeping | Jr. Lounge | Kids Club | Lifeguards | Swim Instructors | Front Desk |
If you are interested in applying for one of these positions, download our application here: /public/careers-job-application. Send completed applications to Jan Carlsen at [email protected].
JUNIOR LOUNGE AND KIDS CLUB HOURS
Junior Lounge and Kids Club hours are as follows:
JUNIOR LOUNGE HOURS
Mon – Fri: 3:30 - 8:30 PM
Sat: 8:30 AM – 2:30 PM
MAY KIDS CLUB HOURS
Mon/Wed: 9 AM – NOON & 4:30-7:30 PM
Tues/Thurs: 8:30 AM – NOON & 4:30-7:30 PM
Fri/Sat: 9 AM – NOON
SUMMER KIDS CLUB HOURS (STARTING MAY 30TH)
Mon-Thurs: 8:30 AM – NOON & 4:30-7:30 PM
Fri/Sat: 8:30 AM – NOON
CALENDAR
MAY
MAY 8TH - HAPPY MOTHER'S DAY
MAY 27TH - OUTDOOR POOL SCHEDULED TO OPEN (MUST BE 70° AND SUNNY)
MAY 30TH – MEMORIAL DAY
New Childcare Hours Begin
New Hydro Aerobics Hours Start – Classes begin at 8:30 AM
Special Group Fitness Schedule
Club Closes at 6 PM
No Tennis Lessons
JUNE
JUNE 1ST – JUNE 5TH - NO TENNIS LESSONS
JUNE 6TH - SUMMER PROGRAMS START
Summer Tennis
Session 1 – Kids Programming (see above)
Session 1 – Swim Lessons
Ladies Who Lift (see above)
JUNE 21 – SESSION 2 SWIM LESSONS BEGIN
JULY
JULY 4TH – INDEPENDENCE DAY – CLUB CLOSED
JULY 4-9 – NO SUMMER KIDS PROGRAMS
JULY 11TH – THE SECOND SESSION OF SUMMER PROGRAMS BEGINS


MEMBERSHIP CHANGES
We accept and process all changes to your membership through email. Please send your requests to [email protected]. Simply write an email to us with the changes you would like to make to your account.