The Ogden Athletic Club opened in 1976, making this our 45th Year Anniversary serving the Ogden area. In that time Ogden has certainly grown, and so have we, into a Best of State facility three years running. We currently have members from Tremonton to Bountiful, from Morgan to Clearfield. We want to thank members and employees that have been here from the beginning and welcome all those just starting their fitness journey. Our family friendly focus has brought adults back with their families that came to the club as children themselves. The Ogden Athletic Club has been a focal point for health minded people and families for decades. Our goal mirrors that of our members: to never stop improving and taking the next step forward in fitness. Thank you for trusting us to help you with your fitness journey. Together we make each other better.

To help us celebrate our 45-year anniversary, we invite your friends and family to try out the club. For the week of November 8-13, all guests will be free to try the club and experience myriad aspects of what makes the club great!

New to Tennis this month! Two new adult tennis clinics have been added to our indoor season tennis schedule. Contact Tony at [email protected] if you are interested in signing up or would like more information.
- Monday Nights (7:30-9PM) : Men's Clinic (Invite Only)
- Thursday Nights (7:30-9PM): Adults – All Comers (All Levels Welcome to Join)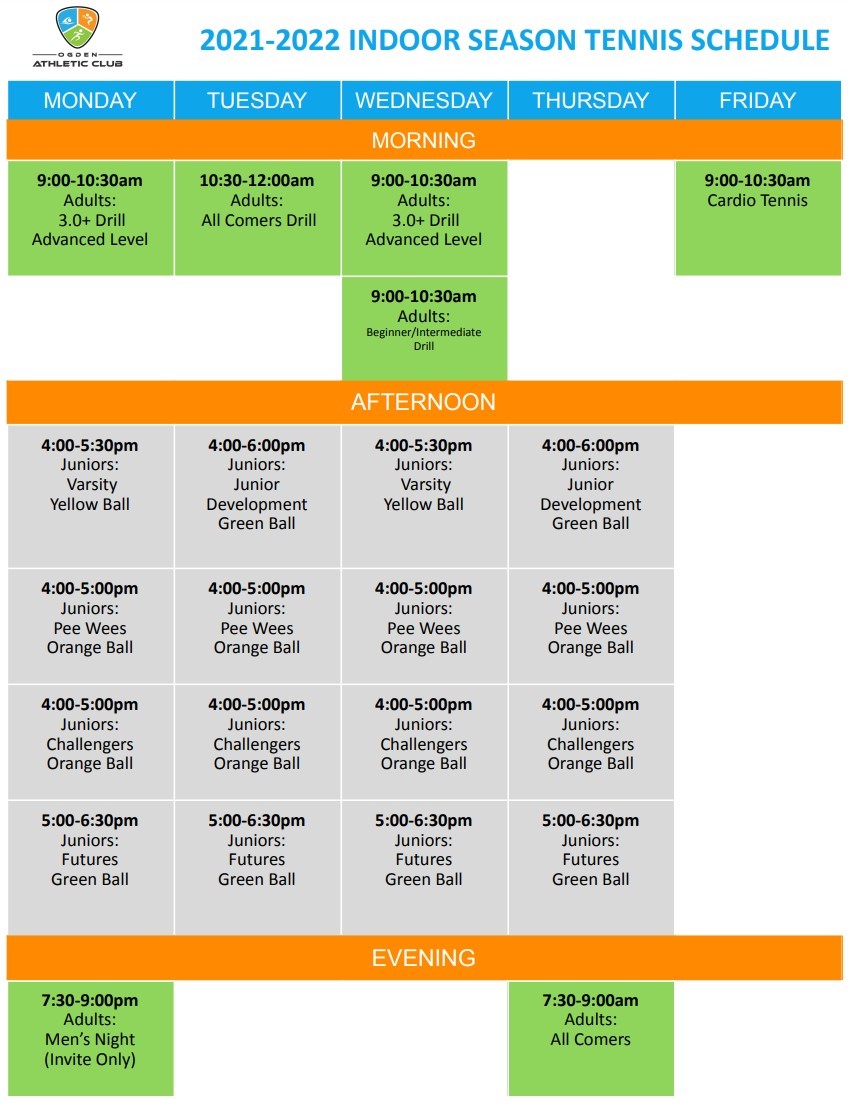 Looking for a Christmas present that won't sit on the shelf or end up in the trash in a year or two? Give your loved ones the gift of a new skill they can use forever. Ask how you can give the gift of tennis this holiday season! After school youth programs are available daily, offering lessons for all ages and skill levels.
Contact Brady for more information at [email protected]

Can you believe it's already been 3 years? 4300' SC recently celebrated their 3-year anniversary!! Now is the perfect time to come try out 4300'SC. Schedules get busier as the holidays approach, but that doesn't mean you have to skip your workouts. Let us take care of programming your workouts, and we will get you in and out of the club in an hour. As always, your first week is always free... so come check us out!

Our last session of the year starts next week! This class combines functional movements, speed and agility, conditioning, and weight training to provide the perfect base to elevate your kids to their fullest potential!
6 Weeks - November 9 - December 16
$79 for OAC members
Tuesday & Thursday
8-11 yrs - 4-5pm
12+ yrs - 5-6pm

An important key to increased performance in sports is strength training. Youth weightlifting and strength training has been shown to reduce risk of injury, improve joint flexibility, core strength, and improve sports performance. Our youth 4300 weightlifting class is the best way to create a great foundation for the future, build strength, build confidence, and build resilience in youth athletes. Our next youth weightlifting session starts next Monday!
6 Weeks - November 8 - December 15
$79 for OAC members
Monday & Wednesday
13+ yrs - 5:30-6:30pm
Contact Krystykka at [email protected] or 715-379-7537 to sign up for any 4300' Program or with any questions! *Please sign up for either youth class by Sunday November 6th!

Even though the holidays are fast approaching, you don't have to put your eating habits and health on hold until the new year. Elevated Nutrition is here to help you create lasting habits and change to navigate through the more tempting and difficult times of the year. Contact Krystykka at [email protected] to set up your free nutrition consult to see how Elevated Nutrition can help you!

Roasted Potatoes, Carrots, Parsnips and Brussels Sprouts
From Foodnetwork.com, RECIPE COURTESY OF GIADA DE LAURENTIIS
3 medium carrots (about 3/4 pound), cut into 1 1/2-inch thick circles
1 1/2 cups Brussels sprouts (about 1/2 pound), halved
4 cups red bliss potatoes (about 1 pound), cut into 1 1/2-inch thick slices
3 medium parsnips (about1 pound), cut into 1 1/2-inch thick slices
1 cup sweet potatoes (about 1 pound), cut into 1 1/2-inch thick slices
1/2 cup extra-virgin olive oil
1 tablespoon dried oregano
1 tablespoon dried rosemary
1 teaspoon dried thyme
1 teaspoon dried basil
1/4 cup sea salt
2 tablespoons freshly ground black pepper
Directions
Preheat oven to 400 degrees F.
In a large bowl, add the carrots, Brussels sprouts, red bliss potatoes, parsnips and sweet potatoes. Toss well with olive oil, herbs, salt and pepper.
Spread the vegetables evenly on a large baking sheet. Place on medium rack in oven and bake for 35 to 40 minutes.

Small Group Training is working with a personal trainer in a group of 4-6 people. This is a great opportunity to get your friends to work out together, push each other and have fun!
6 Week Program:
1hr/2x per week
$200 per member
$250 per non-member
Contact Haley at [email protected] for more information or to get a group started!


Youth between 6th and 8th grade are eligible to take our Junior Fitness Class, taught by one of our experienced personal trainers. The course is designed to provide best practices and safety information to prepare teens to use the weight room. Once completing the course, they will be given a pass to allow them to use the weight room without adult supervision. Children younger than 6th grade are only allowed in the weight room if actively exercising with a parent. Only one session needed, sign up at the front desk.
Thursdays 4:30 - 5:30pm
$10 – One-Time Fee
6th - 8th Graders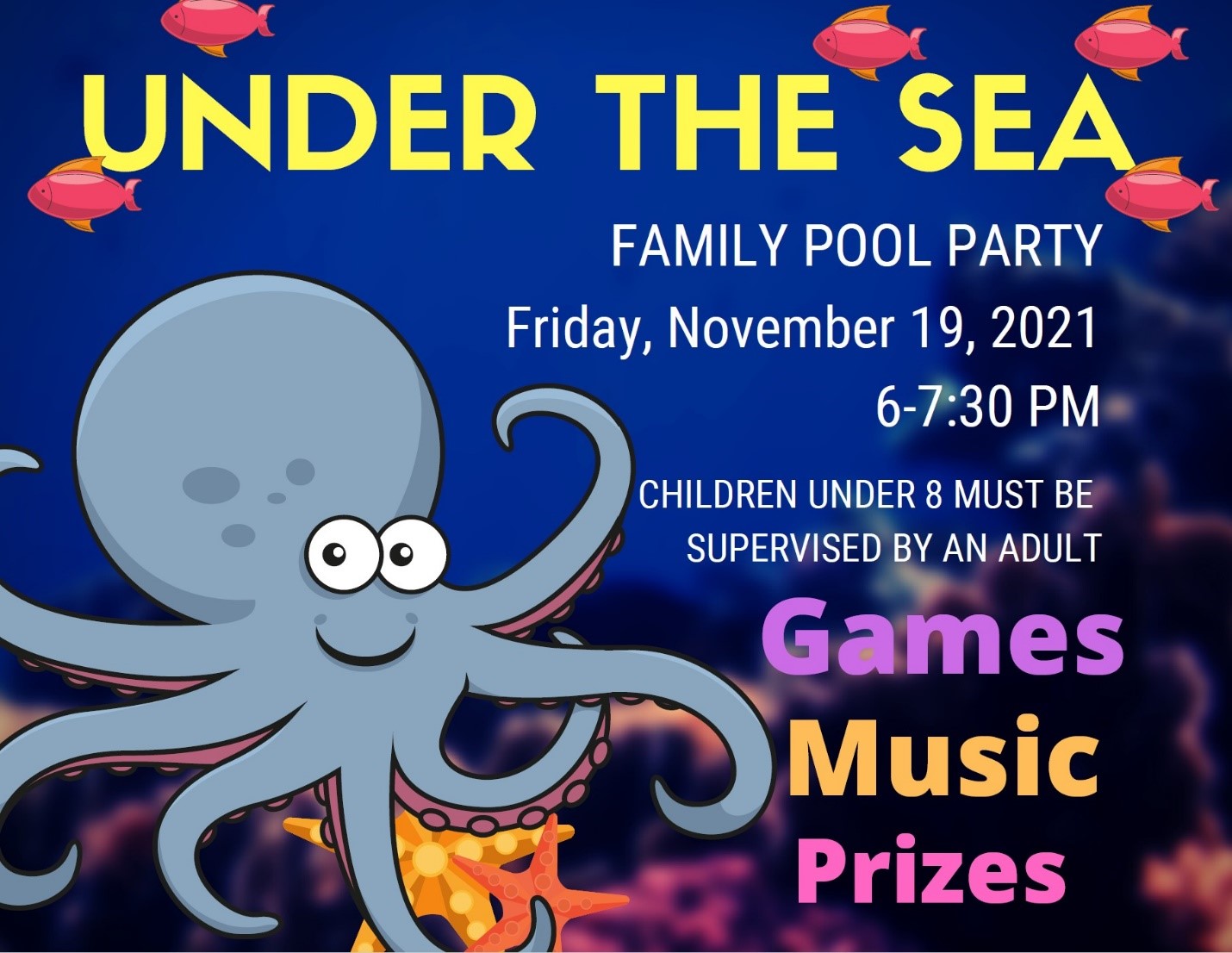 JUNIOR LOUNGE AND KIDS CLUB HOURS
Junior Lounge and Kids Club hours are as follows:
JUNIOR LOUNGE HOURS
Mon – Fri: 3:30 - 8:30 PM
Sat: 8:30 AM – 2:30 PM
KIDS CLUB HOURS
Mon/Wed: 9 AM – NOON & 4:30-7:30 PM
Tues/Thurs: 8:30 AM – NOON & 4:30-7:30 PM
Fri/Sat: 9 AM – NOON
CALENDAR ITEMS
NOVEMBER
7TH
Daylight Savings Time Ends
8TH-13TH
OAC 45th Anniversary Celebration – Friends Free Week
19TH
Under the Sea Pool Party 6-7:30pm
25TH
Thanksgiving – Club Closed
26TH
Group Fitness – Black Friday Fitness Party Special Schedule – Wear Black
DECEMBER/JANUARY
24TH
Christmas Eve – Club Closes at 3pm
25TH
Merry Christmas – Club Closed
31ST
New Year's Eve – Club Closes at 3pm
JAN 1ST
New Year's Day – Club Hours: 8am – Noon
MEMBERSHIP CHANGES
We accept and process all changes to your membership through email. Please send your requests to [email protected]. Simply write an email to us with the changes you would like to make on your account.