September Newsletter 2022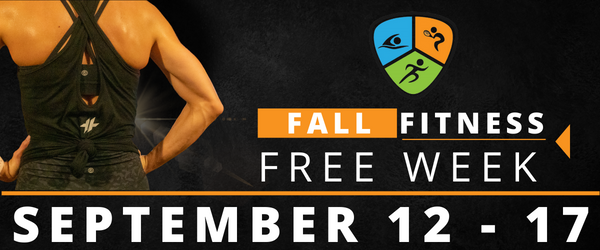 Have you taken a break from the gym? Are your home workouts falling through the cracks? It's time to fall back in love with LIVE fitness. Join us September 12 – 17 for a week of rediscovery. This month there are no joining fees, and you get September Free! This is the best promotion of the year. It's time to come back, or if you have been going strong, bring a friend and help them see why you love fitness at the Ogden Athletic Club!
Group Fitness is hosting an OAC HOMECOMING WEEK! Check out the details in the flyer below. A schedule with all the highlighted classes can be found under the group fitness schedule TV and posted near the group fitness rooms. Attend a highlighted class and receive a ticket punch toward our prize raffle. If you wear the theme of the day you will receive double the punches and double your chances of winning!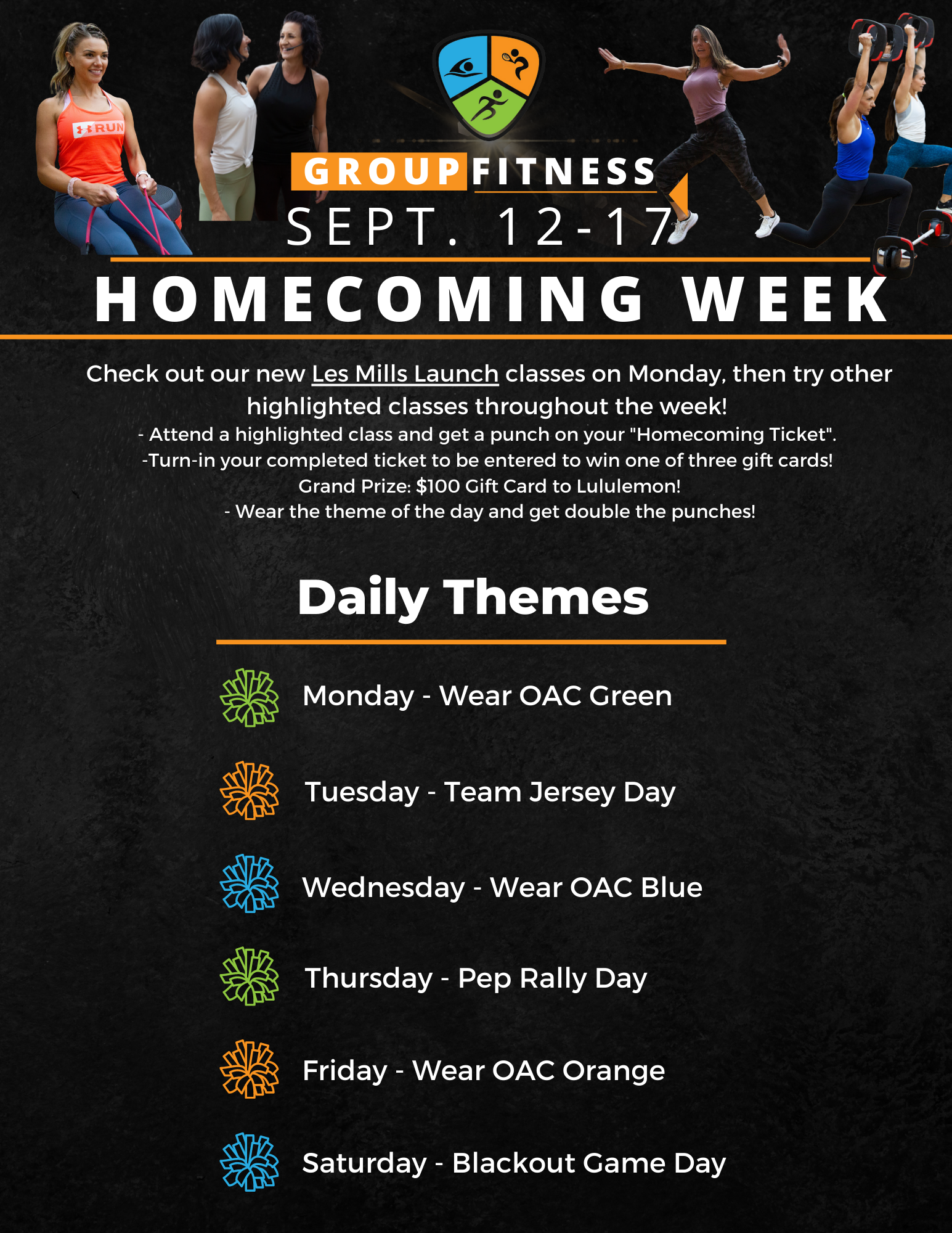 FALL PROGRAMS
Are you or your kids ready to experience something more in fitness? Try 4300 Strength & Conditioning. Krystykka has programs starting soon you don't want to miss.

Member Quote:

"Krystykka's class was wonderful! It had been several years since I seriously lifted weights, so I was looking for some guidance regarding technique and routine. Krystykka is so kind, and she takes the time to make sure everyone feels comfortable and understands the
movements. It's a great clas s for new and experienced weightlifters alike."

-Susan A., 43

Ladies Who Lift is here to help women build confidence inside and outside of the gym. This class is designed for women who are both new to weightlifting and have years of experience. All skill levels are welcome! Contact Krystykka to sign up: [email protected]

The next 6-week session starts soon:
September 12 – October 19
Mondays & Wednesdays 10:00 – 11:00 AM

Krystykka has developed a training regime specifically for kids. With skilled coaching and safe and effective workouts, your kids can learn to start training correctly or increase their budding knowledge and interest in fitness. Reach out to Krystykka at [email protected] for more information. She has two options available this fall. The cost is $85/per 6-week session for OAC members.
Youth 4300 Strength & Conditioning -
Tuesday & Thursday
8-11yrs | 4:00-5:00 PM
12+ yrs | 5:00-6:00 PM
September 13 – October 20
Youth 4300 Weightlifting -
Monday & Wednesday
13+ years only | 5:30-6:30 PM
September 12 – October 19

Our tennis policies have changed. There is no longer a tennis pass required to reserve a court. Now any member can reserve a tennis court! Court fees are $20 for an hour, divided by the number of players. Make a reservation at the front desk and enjoy a game with your friends or family!

We want to welcome Michele Vlahos to the OAC management team. She will be heading up the front desk and we couldn't be more thrilled. She retired from the Post Office after 34 years. She is a Licensed Master Esthetician and runs a business out of Profiles Salon. She loves people and wants to provide the best customer service possible to our members and hopes to make everyone feel like they are all a part of the Ogden Athletic Club Family.
NEW FALL JUNIOR LOUNGE AND KIDS CLUB HOURS
Junior Lounge and Kids Club hours are as follows:
KIDS CLUB HOURS
Mon/Wed: 9:00 AM – NOON & 4:30-7:30 PM
Tues/Thurs: 8:30 AM – NOON & 4:30-7:30 PM
Friday: 9:00 AM – NOON
Saturday: 8:30 AM – NOON
JUNIOR LOUNGE FALL HOURS
Mon – Fri: 3:30 - 8:30 PM
Sat: 8:30 AM – 2:00 PM
CALENDAR
SEPTEMBER
12TH-18TH FREE WEEK AND OAC GROUP FIT HOMECOMING
14TH – 16TH INDOOR POOL WILL BE CLOSED FOR ANNUAL CLEANING
17TH – THE OUTDOOR POOL WILL CLOSE FOR THE SEASON
OCTOBER
3RD – 7TH BREAST CANCER AWARENESS WEEK (WEAR PINK)
13TH – 14TH SCHOOL FALL BREAK
- LIFEGUARDS WILL BE ON DUTY AT 11 AM
- JUNIOR LOUNGE WILL OPEN AT 8:30 AM
17TH – BECKY'S BOOTCAMP SESSION STARTS
21ST – OAC HARRY POTTER HALLOWEEN PARTY
31ST – HALLOWEEN – CLUB CLOSES AT 6 PM
MEMBERSHIP CHANGES
We accept and process all changes to your membership through email. Please send your requests to [email protected]. Simply write an email to us with the changes you would like to make to your account.