Group Fitness
Being fit isn't a destination it's a way of life, a way to have fun and release the kid in you! Group fitness classes are an amazing opportunity for members to inspire, encourage, and empower each other to be healthier. That's why we work hard to bring members together by offering a wide range of fun group fitness classes. From yoga to spin, aqua aerobics to Body Attack, Body Combat to Body Sculpt….at Ogden Athletic Club, you can be sure to find your place in one of our group classes. Here are a few examples:
OGDEN ATHLETIC CLUB APP
You can see the group fitness schedule and more on the app.
When joining, you should receive an email to join our app.

Download the Ogden Athletic Club app from the app store

Follow the directions in the email to help you log in.

If you have any questions or can't get in, please email [email protected] for help.
Yoga Studio
Enjoy our relaxing and beneficial yoga classes. And Barre Classes ! Outstanding instructors and a great energy that you can't find anywhere else !
Cycling Center
Enjoy our new Stages Cycling bikes. Enjoy the high energy classes that really pump you up ! The music is amazing and motivating! You can't go wrong when you are in one of these classes - It's for all levels !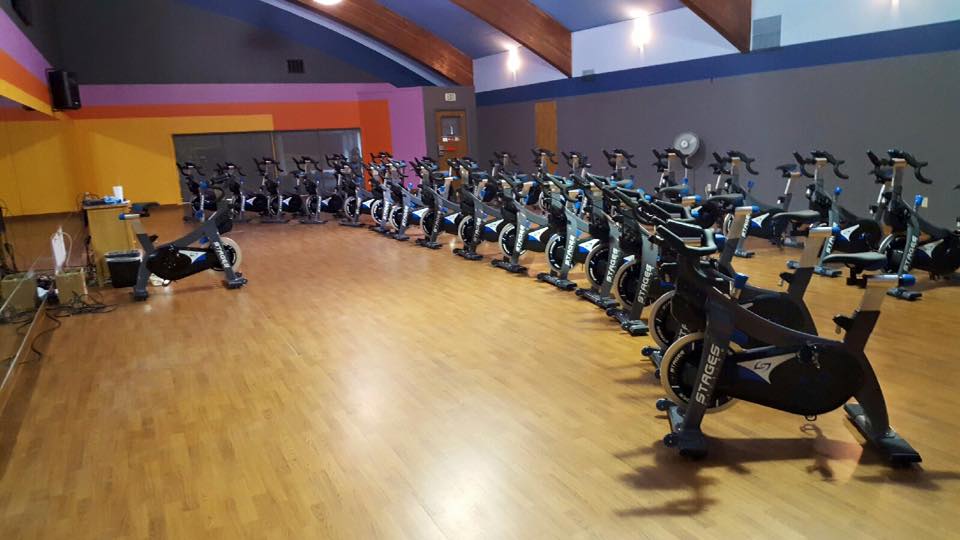 Group Fitness Information:
The Club offers over 60 aerobics classes per week. We have over 20 instructors on staff that are all nationally certified. All instructors are CPR certified and train continuously to teach the most effective, safe, and fun classes possible for our members. We have a reputation of offering excellent group fitness classes and performing ongoing training sessions to maintain this image.
Group Fitness Etiquette:
• Please try to be punctual. The warm-up is the first 8-10 minutes of class and is necessary to prepare the body to exercise vigorously. If you miss the warm-up, you are more prone to injury.
• Class participation is on a first-come, first-serve basis. Please make sure that you are not crowding someone who is there before you. Give everyone ample space.
• Disruptive persons will be asked to leave the classroom for the day for the enjoyment of the majority.
• Please put your equipment back in an orderly and timely fashion, as the transition between classes is quick.
• Please do not enter the classroom before the previous class has finished unless an instructor has invited you to do so.
• Socializing is integral to our health, but please socialize in the hall, away from the yoga room, if there are still classes in progress.
• To achieve the most benefit, attend class regularly.
• Watch the instructor. Correct technique and body alignment are integral to an effective workout. Chatting with your neighbor will not allow you to work at your capacity. Talking may also be distracting to those who are concentrating. Please socialize outside the rooms.
• Attend the class(es) suited to your fitness level. Most injuries and soreness come from doing too much too soon: you cannot rush fitness. If a move is uncomfortable, modify it so you can do it comfortably.
• Please do not ignore the instructor or do something completely different. Ask the instructor for a modification. This can be distracting to other members and the instructor. If you want to increase your workout level, add a riser to your step or bigger movements.
• If you are new, stand in the "Safety Zone" (back of the room) to learn the steps better. It is recommended to come about 5 minutes early to get a good spot and the needed equipment required for the class.
• If you are new and taking a Cycling class, tell the instructor so they can properly set up your bike to avoid injury.
• Fitness-type shoes are required for all aerobic classes, and appropriate exercise attire should be worn.
• Infants or elementary-age children are not allowed in the aerobic rooms or area at any time unless involved in supervised dance class.
• Children in junior high may attend but must be directly supervised by an adult.
• During the Hydro-aerobic classes, the pool is closed to all except those participating in these classes.
• If you have enjoyed the class, let the instructor know. It makes his/her ongoing training, certification, and efforts more worthwhile. Feel free to ask any questions after class or be shown choreography. We want you to enjoy your fitness experience as much as we do.
We want you in class, and we want to make your workout enjoyable and safe.
Thank you for your cooperation and support.
-The OAC Group Fitness Staff-